Jordanhill School Teaching Block
The new building at Jordanhill School is a teaching block for the secondary school, accommodating four departments, including a large open plan art department at its centre overlooking an atrium. The development also included a redesign of the southern half of the site improving the setting for the listed main building, and much better campus circulation and play areas.

The design explored the value of the atrium model for schools, working to achieve convincing levels of natural light into all parts of the school, a high degree of legibility, strong vistas and considered views. Recognising the positional importance of elements within the plan (such as the art room) was seen as important in eliminating excessive circulation and delivering potent inter-relationships.

Externally, the elevation onto the street is a formal composition of solid and void, the repeating window pattern an honest representation of the classrooms which addresses the environmental requirements for natural ventilation, daylight and acoustics. The carefully detailed cast stone walling achieves a restrained, modern address to the street that does not attempt to compete with the listed Main School Building.
PROJECT: Jordanhill School Teaching Block
LOCATION: Chamberlain Road, Glasgow
CLIENT: The Scottish Executive Education Department in conjunction with Jordanhill School
ARCHITECT: Elder & Cannon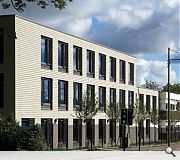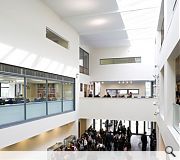 Back to Education