Carrochan, Loch Lomond and the Trossachs National Park HQ

The new building, "Carrochan", provides a central headquarters for the first National Park in Scotland that covers a region over 700 square miles north and west of Balloch. The new building provides flexible workspace for over 120 staff, associated community groups, staff from Scottish Natural Heritage and SEPA.
The design team has striven to meet the client demands for an affordable, sustainable building, that not only sets new standards for office design but one that also affects ways of working, allowing staff to undertake a planned process of change.
The building plan has a sinuous curved form which responds to the site, at the junction of a roundabout and the approach road to Balloch Country Park. The front of the building has a large canopy, which invites the staff and visitor to enter. The foyer, meeting rooms and conference rooms are situated at this end of the building.
Beyond this is the main office space for the National Park Authority. The office areas are arranged around a central street. This is seen as the heart of the building and circulation occurs through this and is lit by a continuous roof light. It feels almost like an outside space even if it is in the middle of the building.
The library and café spaces are positioned directly off this and are double height spaces. Also on the ground floor are more private rooms used for meetings, reprographics, archive and server rooms. The first floor is fully open plan and maximises the height of the building by the ceiling following the roof line.
The section is based on traditional barn like structures, with a double pitched roof. Running through the centre is a glazed street which brings light and ventilation deep into the building plan. The main offices are open plan overlooking the street.
Natural materials are used widely in the design. The main structural frame is constructed from green douglas fir. The exterior materials are natural slate roof finish, natural stone walling and Scottish larch cladding.
The building and car parking is within a landscaped setting, with tree and hedge planting and a reed bed area to the rear, which forms part of the sustainable drainage system for the project.
The quality of the workspace is like no other commercial office. The building is light and airy. The soft curve of the form means that even though the building is open plan you get a feeling of enclosure. The central street creates a feeling of openness and allows views across from department to department. This building is such a contrast from the old headquarters and the employees find they are much more productive in this space because they fell happier and healthier.
This was the first building, after the Scottish Parliament, to be directly funded by the Scottish Government and was seen as a great success, as it was delivered on budget and on programme
PROJECT: Carrochan, Loch Lomond and the Trossachs National Park HQ
LOCATION: Carrochan Road, Balloch
CLIENT: Loch Lomond and the Trossachs National Park Authority HQ
ARCHITECT: Page\Park
STRUCTURAL ENGINEER: Buro Happold
SERVICES ENGINEER: Buro Happold
QUANTITY SURVEYOR: Gardiner & Theobold
LANDSCAPE ARCHITECT: Ian White Associates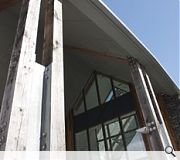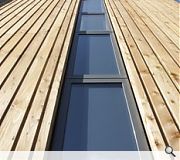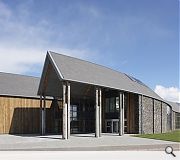 Back to Public