Mull Theatre Production Centre
In 2005 City Architecture Office won the competition to design a new theatre on the island of Mull.

Situated near Tobermory within the historic Aros Park, the building is orientated to suit the landscaped setting, capture stunning views to mainland Scotland and work with the challenging ground conditions.

The remoteness of the island location has meant that materials needed to be easily transportable and durable. This has informed the structural and external envelope solution.

The design proposals secured European and other public funding. Our approach understands the client's aspirations by considering a phased development to ultimately form a creative campus that will include theatre, education, music production and performers accommodation on the site.

The building is designed to achieve a flexible performance space that will suit a variety of formats. It is highly insulated with the use of natural ventilation linked to an exhaust & air source heat recovery system, with sewage treated in bio-tanks that achieve a self sufficient and sustainable solution.

PROJECT: Mull Theatre Production Centre
LOCATION: Drumfin, Tobermory, isle of Mull
CLIENT: Mull Theatre
ARCHITECT: City Architecture Office
STRUCTURAL ENGINEER: Peter Robinson Associates
SERVICES ENGINEER: Fusion Mechanical Services Ltd
QUANTITY SURVEYOR: Hardies Property & Construction Consultants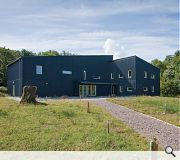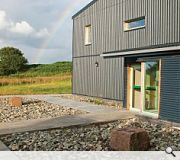 Suppliers:
Main Contractor: TSL Contactors Ltd
Back to Public