Reidvale Allotments
Reidvale Housing Association commissioned Assist Architects to create the first new urban allotment scheme in Glasgow since the Second World War. The Contract Cost was £280,000, funded by DRS/Housing and Regeneration Directorate and Reidvale HA.

The site, Reidvale Gardens in Glasgow, was underused and decayed, a meeting point for gangs and a venue for residents to relieve their dogs. Bounded by a railway to the south and with tenements overlooking the site from the North, the client wished the design to visually enhance the area as well as becoming a valued sustainable community resource.

Design work, consultation and soil analysis completed, the Contractor, PLS Construction, commenced on site in late February 2008.

The existing perimeter wall was repaired, new galvanised Orsogril steel fencing added and matching fencing dividing each of the three 'nodes' of the design. The central node is for local school and nursery use. Node 3 contains raised planter beds, constructed from Baltic pine railway sleepers in a lattice formation. Each of the six beds is built to varying heights to promote use by all potential users.

The sheds are cedar clad externally, on a timber frame, with natural zinc roof finish. Rainwater is fed into water butts mounted centrally between the entrances to each shed. Each 'node' has a Community shed with electric power outlets and provision for further storage.

The work was completed in June 2008 and has been a local success, with a large oversubscription for the initial tenancies.

PROJECT: Reidvale Allotments
LOCATION: Reidvale Gardens, Glasgow
CLIENT: Reidvale Housing Association
ARCHITECT: Assist Architects
QUANTITY SURVEYOR: Brown & Wallace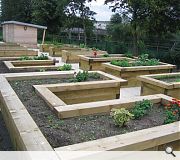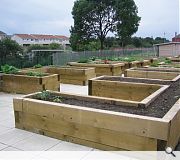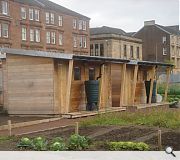 Suppliers:
Main Contractor: PLS Construction
Back to Infrastructure, Urban Design and Landscape