9 Craiglockhart Loan
The site was purchased with planning consent for a detached house almost identical to its neighbours. The client negotiated a contract with the builder and gave Gordon Duffy of Studio DuB free rein within the given parameters. Duffy retained the eaves and ridge height but has totally reworked the previous design leaving nothing but the silhouette.

Roof and wall have been cloaked uniformly in man-made slate. Inside, the standard two storey arrangement has been transformed into three levels: a ready made loft conversion. Duffy designed the exposed ring beam structure to free the volume of roof trusses, allowing a gallery to engage with the living area.

The Mantle is an insulated timber frame house served by underfloor heating throughout. A ""granny flat" on the ground floor is kept discrete from the main accommodation above. Overgrown dormers cantilever to the front punctuating the entrance whilst a terrace to the rear provides sightlines right through the main volume. It has entirely reinvented a tired suburban typology.

PROJECT: 9 Craiglockhart Loan
LOCATION: Edinburgh
CLIENT: Contemporary Properties
STRUCTURAL ENGINEER: Harley Haddow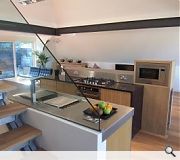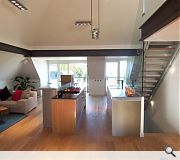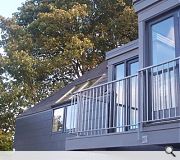 Suppliers:
Main Contractor: Woodrow Developments
Back to Housing