Dawyck Botanic Garden Visitor Centre and workshops
This visitor centre, designed Simpson and Brown Architects, at Dawyck Botanic Gardens, near Stobo, was funded by the Scottish Government and Scottish Borders Enterprise. Opened during the 30th anniversary year of Dawyck coming into the care of the Royal Botanic Garden Edinburgh it is the first of a new generation of 'Gateway' buildings for the organisation's four gardens. It expands their existing facilities to cater for ever-increasing visitor numbers and also improves accommodation for staff and maintenance equipment.
The new design sits lightly in a mature landscape; a low lying horizontal structure amongst Dawyck's unique collection of specimen trees. Fully glazed public areas and innovative detailing allows external materials to penetrate the interior combine to reinforce a sense of one-ness with the site. Materials are carefully chosen to harmonise with their backdrop, with timber boarding and oak framing acting as a foil for the jewel-like copper wall cladding that marks the setting of the building from the ramped approach.

Sustainable features have been incorporated with the underfloor heating fed by a wood chip boiler located in an adjacent, low-key maintenance building and a heat sink wall is included to moderate the thermal response of the building. There is also a labyrinth type ventilation system and the sedum covered roof displays a literal green footprint when glancing back towards the centre from the arboretum walks.

PROJECT: Dawyck Botanic Garden Visitor Centre and workshops
LOCATION: Stobo, Near Peebles, Scottish Borders
CLIENT: The Royal Botanic Gardens Edinburgh (Ian Laurie)
ARCHITECT: Simpson and Brown Architects
STRUCTURAL ENGINEER: Elliot and Co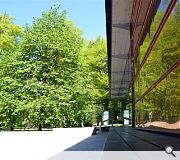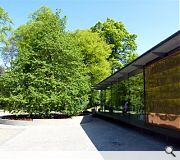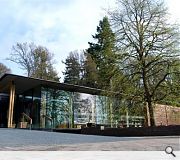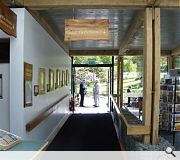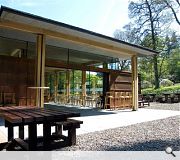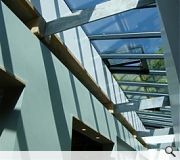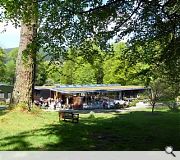 Suppliers:
Main Contractor: Border Construction
Back to Public