McKAY HOUSE
The quality of recent additions to the rural housing stock has left much to be desired, with a high proportion of kit houses that have box like rooms and windows ordered from catalogues.

The McKay House is designed to reflect a confident and optimistic society. It is a south facing long and linear house that maximises the solar gain potential for heating, as well as enhancing natural lighting and ventilation. Its form and proportions respect the fine tradition of Scottish vernacular architecture. It responds to local conditions, whilst being of our time by demonstrating key characteristics of good contemporary architecture. It is innovative and responds creatively to the unique demands of Scottish landscape.

The interior of the house is essentially an open plan. At the heart of the 220m2 dwelling is the main living area that has a double height volume with exposed ties. The combination of Velux roof windows and full height south-facing glazing units offers stunning views over the North Sea and the fields and hills of Aberdeenshire. A master bedroom suite on the ground floor makes the house an adaptable life- time home. There are additional bedrooms and a family lounge upstairs - ideal for visitors, family and friends.

The McKay house is a very low-energy home that reduces the heating requirements to a minimum and the CO2 emissions by up 70% compared to standard timber kit houses. Maximum energy efficiency was achieved by using an innovative blockwork construction comprised of 600mm thick Sto-rendered cavity blockwork walls filled with 300 mm insulation along with triple glazing with airtight construction, and a heat recovery ventilation system. The u' value of the external walls are reduced to 0.10 W/m2K. The walls are extraordinarily thick, like the walls of the traditional granite buildings of Aberdeenshire.

Another innovative feature of the house is the first use in the UK of Velux solar panels that are incorporated into the grid of the Velux roof lights. The integration of solar panels and roof lights is aesthetically pleasing, resulting in a roof design that reflects conscious forethought rather than unconscious afterthought.

The entrance porch has a pillar made from a granite roller used by farmers subsequent to harrowing and raking. This cultural reference to granite in Aberdeenshire cost just £50 from a local farmer.

We believe that McKay House is a sustainable home that represents excellent monetary value for the owners and cultural value by adding to the manmade quality of the local landscape heritage. It also represents use of the best building technology available today for a sustainable way of living.

PROJECT: McKAY HOUSE
LOCATION: NORTH BACKBURN, NETHERLY, STONEHAVEN
CLIENT: MR & MRS McKAY
ARCHITECT: G.DEVECI CHARTERED ARCHITECT
STRUCTURAL ENGINEER: Peter Gallon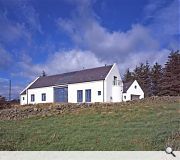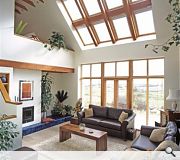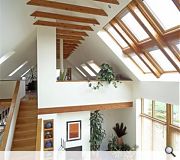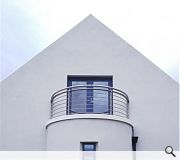 Suppliers:
Main Contractor: MacDougall & Masson
Photographer: Douglas Gibb
Cladding Contractor: Sto Ltd
Glazing: Nor-Dan UK
Back to Housing