BURNETT HOUSE
The design of the Burnett House seeks to address the difficult challenge of using sustainable contemporary construction in a way that that is in harmony with the local vernacular tradition.

The interior of the house is essentially an open plan. At the heart of the 170 square metre dwelling is the main living area that has a double height volume. The combination of large full height glazing units facing South offers stunning views over the River Dee and the fields and hills of Aberdeenshire. A master bedroom suite on the ground floor makes the house an adaptable life- time home. There are two additional bedrooms that are light and airy with coupled Velux windows offering attractive views over the surrounding countryside. The bedrooms are connected with a glass fronted bridge letting additional natural light into the building.

This is one of the most insulated buildings in the UK. It is built with an innovative double- studs system for wall and roof construction that accommodates super insulation levels and maximum air tight construction. This was achieved by continuous use of polythene sheeting between the double framing and two insulation layers. Airtight construction is used along with Velux solar panels, triple glazing and a heat recovering ventilation system. This effectively makes the Burnett house a zero-heating/zero-carbon emission house.

Materials were chosen that would also weather in colour and texture, ageing gracefully in harmony with seasonal changes. The roof is clad in copper and the walls are untreated Scottish larch. Another innovative aspect of the house is the special use of timber for the external cladding, using 50 mm square larch with 10 mm gaps. It is crisp and precise and shows that timber can be aesthetically interesting and contemporary.

One of the problems with sustainable buildings today is that they have acquired an aesthetic image of rather narrow appeal, mainly among keen environmentalists. We believe that sustainable houses do not have to look like rustic timber sheds with grass roofing. In the Burnett House, we have sought to make a design statement in the spirit of sustainability which shows that 'living the vida eco' can be 'vital and sexy' rather than 'worthy and staid'.

PROJECT: BURNETT HOUSE
LOCATION: SCOTT SUTHERLAND SCHOOL, GARTHDEE ROAD, ABERDEEN
CLIENT: MR & MRS BURNETT
ARCHITECT: G.DEVECI CHARTERED ARCHITECT
STRUCTURAL ENGINEER: Ramsay & Chalmers
QUANTITY SURVEYOR: Allan Thomson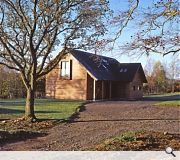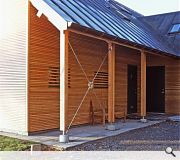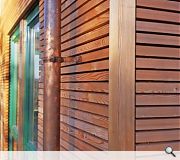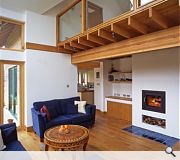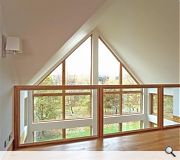 Suppliers:
Main Contractor: Banchory Contractors
Photographer: Douglas Gibb
Glazing: Nor-Dan UK
Back to Housing