LOTTE GLOB STUDIO
Lotte Glob is a Danish ceramic artist whose practice is closely identified with the wilderness landscape in North-West Scotland. She commissioned me to build a living and working space that would enable her to integrate her practice, her business and her lifestyle. She stipulated that the design should be affordable and context-sensitive, as well as complementing her aesthetic vision and reflecting her passion for the light across the hills of Sutherland.

On completion of the house, Lotte asked me to design a studio where she could work that would adhere to the same principles of affordability and sensitivity to both landscape and her aesthetic vision. The studio needed to be embedded within the contours of the landscape, reflecting the local vernacular architecture in Sutherland, such as traditional croft buildings and agricultural sheds, which settle into the landscape with harmony. The 60m2 studio space comprises a double-height internal working and exhibition space with a large, partially-covered paved terrace oriented towards to the south, and a compact service space facing west. Roofed with rust-coloured corrugated iron and finished internally with local pine boarding, the external construction is blockwork faced with reclaimed stone. The internal structure is insulated timber framing, finished with plywood. Very large sliding glazed doors allow the studio space to spill out onto the terrace and give views of Ben Hope and Loch Eriboll. Long, narrow and linear windows puncture the North rear wall which creates the potential for illuminating sculpture and interior space. Internally it is shelved with laminated timber, supporting and displaying Lotte's artworks. Two wing walls at west and east create a frame for an evolving sculpture garden, sited between the studio and Loch Eriboll.

In five years, inspired by her creativity and determination, she has transformed an area of barren windblown rocks into a landmark where people can visit and be inspired both by the monumental nature of the landscape and by Lotte's own sculptural artworks created in response to it.

The Lotte Glob's workshop is a private working space in a remote and dramatic landscape setting in North-west Scotland. It is of an innovative design that proposes new planning strategies, typologies, site response and building construction detailing in rural architecture. The main objective of this building was to have as low an impact on its setting as possible whilst applying the affordable construction and low energy principles

Materials were chosen that would weather in colour and texture, ageing gracefully in harmony with changes in the seasons. The design incorporate local materials wrought by the local workforce.

PROJECT: LOTTE GLOB STUDIO
LOCATION: LAID CROFT, LOCH ERIBOLL, DURNESS, SUTHERLAND, SCOTLAND
CLIENT: LOTTE GLOB
ARCHITECT: G.DEVECI CHARTERED ARCHITECT
STRUCTURAL ENGINEER: Peter Gallon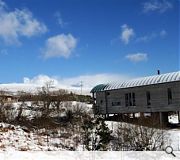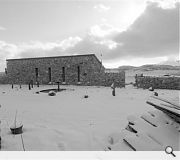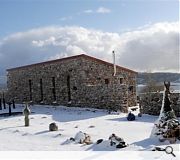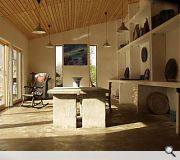 Suppliers:
Main Contractor: Alan Warwick
Photographer: LOTTE GLOB
Glazing: Nor-Dan UK
Back to Housing