Elgin Retail Park
Elgin Retail Park is located at the junction of Edgar Road and the Wards, comprising 10 units with a total area of 85,500sq.ft in an L-shaped block with open south-west aspect. The blocks face on to a customer car park of 373 spaces including 22 disabled and 15 parent and child bays, with rear areas devoted to servicing.

The site layout is designed to create distinct customer and service areas, maximising the presenting of the retail frontage to the main approach. This distinction between public and private is carried through the elevations with rear areas expressed in simple profiled metal composite cladding panels.

Public gables and front elevations are clad in masonry at low level. The masonry coursing is designed using small course heights to both minimise block weights for manual handling and create a strong horizontal emphasis leading the eye towards the front of the building and the unit entrances. This is emphasised by the horizontal cladding at high level.

The frontage comprises a series of unit entrances linked by a colonnade providing shelter for shoppers. At low level an effort has been made to maximise the number of glazed shopfronts and to minimise external column protection to give a "high street" feel. Signage zones are coordinated by being located in contained zones for each unit located above unit entrances. The colonnade is clad in Kallwall giving the opportunity for dramatic evening lighting.

The colour palette adapted is a restrained range of greys and light buffs, appropriate to the local context.

PROJECT: Elgin Retail Park
LOCATION: Edgar Road, Elgin
CLIENT: Robertson Property
ARCHITECT: Duco Architects
STRUCTURAL ENGINEER: Ramsay & Chalmers
SERVICES ENGINEER: Rybka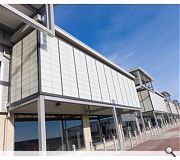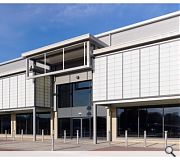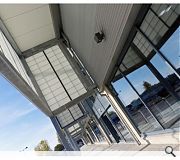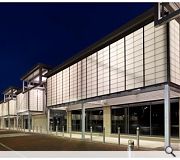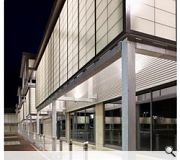 Suppliers:
Main Contractor: Robertson Construction
Cladding Contractor: E Clad
Fire Protection: Mitie
Glazing: AC Yule
Roofing: E Clad
Back to Retail/Commercial/Industrial