Sir Alwyn Williams Building, Department Computing Science, University of Glasgow

Introduction :
Recently completed, this £4.3m project, provides research laboratories and associated accommodation in a new building on a brown field site adjacent to and connected to the existing Department of Computing Science within the University's historic city centre campus.
The building sits beside both Victorian and modern 1960's buildings and is a close neighbour to our award winning Wolfson Medical School Building also for the University. The original JIF bid submitted in 1999 was re-activated as a SRIF2 funded project and was delivered to the client on budget. The new building and external public streetscape now offers an iconic design which expresses both its architectural place in the city and a state-of-the-art educational research environment.
Brief :
The Department of Computing Science is one of the foremost in the UK, setting itself the highest standards in education and is internationally recognised for its research.
The department originally consisted of the series of Victorian terrace buildings in Lilybank Gardens. The new building on the gap site at the end of the Lilybank Terrace provides a new focus and identity for the Department. A new accessible entrance and circulation core is created with research and teaching facilities alongside break-out informal areas.
As well as the new extension building the scope of works encompassed enabling works to No.17 Lilybank Gardens and the Queen Margaret Union Building. A new streetscape links Lilybank Gardens and University Gardens generating a much used public realm for the city centre campus.
Listed Building Consent was obtained to carry out the works to No.17 Lilybank Gardens which consisted of new openings and protected lobbies between the extension and existing building.
Environmental :
A bespoke pre-construction BREEAM assessment was carried out on the project. The building was awarded a "Very Good" BREEAM Rating – this is the second highest award and significant given the site constraints. Materials were specified, where possible, in accordance with the Green Guide and to the BRE A Rating. Mixed Mode ventilation – naturally ventilated with supplementary displacement ventilation and local cooling - was adopted throughout.
PROJECT: Sir Alwyn Williams Building, Department Computing Science, University of Glasgow
LOCATION: Lilybank Gardens, Glasgow
CLIENT: University of Glasgow
ARCHITECT: Reiach and Hall Architects
STRUCTURAL ENGINEER: Beattie Watkinson
SERVICES ENGINEER: Hulley & Kirkwood
QUANTITY SURVEYOR: Davis Langdon LLP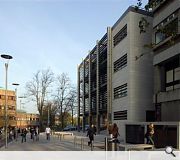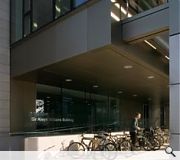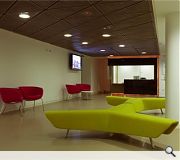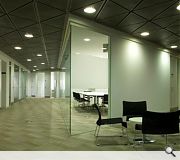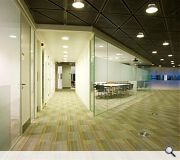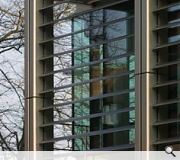 Suppliers:
Main Contractor: Henry Brothers
Cladding Contractor: Charles Henshaw & Sons
Stone Masons: Stirling Stone
Precast Concrete Contractor: Plean Precast
Roofing: Miller Roofing
Interiors: Worksmart Interiors/Azzurro
Ironmongery: Allgood
Ceilings: SAS Ceilings
Glazing: Charles Henshaw & Sons/Azzurro
Back to Education