Gordon Lamb House
High quality contemporary office development located on one of the last few remaining gap sites in the historic centre of Edinburgh. The development comprises 12,000sqft of office accommodation over ground plus 4 storeys. The external facades incorporate the contemporary use of zinc cladding, curtain walling and rendered wall panels to create a high quality aesthetic in keeping with the high expectations of a World Heritage site.

Potential lettable floor areas were maximised within this constrained city centre gap site, through considered design and an in depth knowledge of construction technologies.

The design was developed through the use of a clear diagram and a simple palette of materials which reflect the surrounding buildings and generate layered elevations through the quality of the detailing and the rhythm of fenestration. The composition of the key building elements (office floors, meeting rooms, circulation lobby, service core) is clearly expressed externally and breaks up the palette of materials into an exciting and rational arrangement. The mass of the building is therefore reduced and allows the building to fit comfortably within its dense, sloping urban context.

White render is used primarily on the east elevation to brighten the narrow close between the new development and the Tun. The west elevation is treated with a zinc rainscreen which wraps around the offices. The windows have a vertical emphasis in common with the majority of buildings in the Old Town.

The top floor is stepped back both to respect adjacent property and provide a roof terrace for the fourth floor offices which will enjoy the view to the Salisbury Crags to the South. This also breaks down the overall mass of the building. It is common for the uppermost floor of buildings in the Old Town to be expressed differently (whether it be through form or materials) and allows the 'top, middle and bottom' to be clearly read.

PROJECT: Gordon Lamb House
LOCATION: 3 Jackson's Entry, Edinburgh
CLIENT: Keiller (Edinburgh) Ltd
STRUCTURAL ENGINEER: Waterman Structures Consulting Engineers
SERVICES ENGINEER: Kerr Associates
QUANTITY SURVEYOR: Summerfield Robb Clark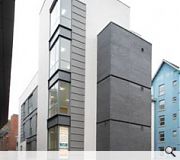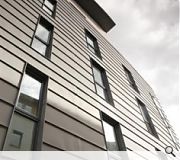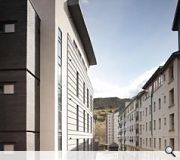 Suppliers:
Main Contractor: Tannson Ltd
Photographer: Alan McAteer
Cladding Contractor: McCormack & Hunter
Fire Protection: Stopfire Ltd
Fire Protection: Stopfire Ltd
Glazing: Greenberg Glass
Back to Retail/Commercial/Industrial