Castlegreen Care Home
Dementia care housing at Craigmillar for The City of Edinburgh Council.

The development provides 60 dementia bedrooms with en-suite facilities, in 6 groups of 10 residents. Each residential wing is arranged around a safe courtyard space, allowing all circulation areas to be daylit.

Facilities include dining areas, lounges, quiet rooms, hairdresser room, computer room, a multi-function activity room and covered external balcony areas. The rear garden area has been designed as a generous dementia-friendly garden, with sunlight and shade, safe changes in level, clear routes, and good passive surveillance to maximise independence.

The building has been designed to comply with the city's Sustainable Design Guide, which aspires to make Edinburgh the most sustainable city in Europe. Measures to reduce CO2 emissions include a passive solar strategy, whole-building ventilation for good internal air quality and reduced energy use, concrete floor slabs for thermal mass, rainwater harvesting for use in toilet flushing, external finishes selected to minimise toxins and reduce cyclical maintenance, reduced use of UPVC, enhanced insulation standards to reduce heat losses, and solar water heating via a 50 square metre roof-integrated array.

PROJECT: Castlegreen Care Home
LOCATION: Craigmillar, Edinburgh
CLIENT: The City of Edinburgh Council
ARCHITECT: Robert Potter & Partners LLP
STRUCTURAL ENGINEER: Hodgins Smith Partnership
SERVICES ENGINEER: Mexel Design Consultants
QUANTITY SURVEYOR: Brownriggs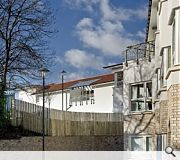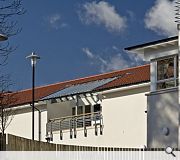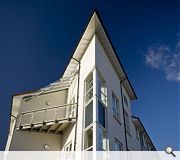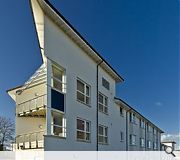 Suppliers:
Main Contractor: Graham Construction
Photographer: John Cooper Photography
Stone Masons: Martin Fitzpatrick
Fire Protection: Global Fire Protection
Glazing: Alplaas
Flooring: Bryson Carpets
Roofing: Marley Roofing
Mechanical & Electrical Installations: Rotary Scotland
Back to Health