Dunedin Canmore Housing Association Housing

The project brief for the Brownfield site on the South side of Edinburgh required a mixture of residential types: flats, 2/3 bedroom homes and amenity flats.
The subsequent layout arranged these in relation to the nature of the site boundary and surrounding accommodation and maximize both amenity and open space, including existing mature trees and Stenhouse Burn.
The expression of the housing is very simple, deliberately avoiding mannered 'add-ons' in favour of more traditional materials and detailing. Nonetheless the character is contemporary and with detailing that gives clean lines and low maintenance.
The flatted 4 storey block hugs the north boundary and is constructed off an existing rubble stone wall. This provides a richness at the street level and allows the other floors to be elevated simply, only taken advantage of at corners and in front of stairs.
A critical factor in the design and specification of the project is sustainability. The housing will be heated by a communal woodchip boiler and the existing site materials such as roofing slates were reused, with others recycled or used to consolidate foundations.
Images taken by Keith Hunter.
PROJECT: Dunedin Canmore Housing Association Housing
LOCATION: Lasswade Road, Edinburgh
CLIENT: Dunedin Canmore Housing Association
ARCHITECT: Lee Boyd
STRUCTURAL ENGINEER: Wren and Bell
SERVICES ENGINEER: Harley Haddow
QUANTITY SURVEYOR: Peter Graham and Partners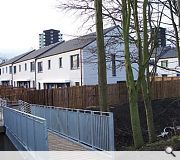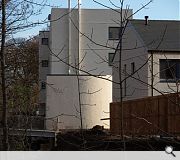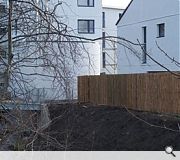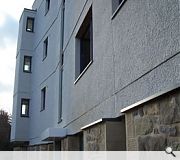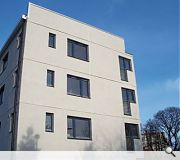 Suppliers:
Main Contractor: Hart Builders
Photographer: Lee Boyd
Back to Housing