The Steeple

The Steeple is a new centre for the arts in Newburgh, Fife, Scotland, housing affordable studios, a residency flat with its own studio for visiting artists, and a project space which can be booked for classes, workshops, performances and exhibitions.
The Wasps Trust and Wasps' Artists Studios has developed the new venue, the first of its kind in Fife, in partnership with local charity Fife Arts Co-operative (FAC).
The project encompassed alterations to a town hall and corn exchange in order to accommodate artists studios and exhibition space for the client, WASPS Artists Studios.
The original building comprised the Town Hall and Steeple dating from 1808 is sited prominently on the main street of Newburgh. The main hall and ancillary accommodation were on the first floor with a flat below. To the back, the 'corn exchange' was a linear storey-and-a-half building dating from 1830 and was essentially a traditional farm steading. The resulting L-shaped building completes the enclosure of a small courtyard. Both buildings are category 'B' listed
Though it clearly had some fine spaces, the whole building was in relatively poor condition, having been empty for some time.
The brief included three uses; studio spaces, residential accommodation for visiting artists and a multifunctional space for exhibition, events and education
The main design challenges were firstly, of course, to fit the desired accommodation into an existing shell but also of main concern architecturally was the connection between the two original buildings. The corn exchange, built later than the main building, crashed awkwardly into the back of the town hall at a slight angle, linked by a fire escape built more recently still.
The new link had to comply with current fire regulations and accommodate a lift for disabled access. Meeting the original levels and designing the glass, curtain wall link to minimise disruption to the back wall of the hall proved to be a challenge.
The original Palladian window is now encompassed wholly within the stairwell and the existing stone wall, with all its history of previous alterations, has been left exposed. This new link introduces light into the circulation and affords views out into the courtyard.
The original hall was retained and refurbished for use as an exhibition space and is open to the public.
The studios are simple white boxes, a blank canvas. The ground floor studios in the old corn exchange have a wide open aspect to the courtyard where the original colonnade has been fully glazed.
The project was completed in February 2008 and is already fully occupied.
PROJECT: The Steeple
LOCATION: Newburgh, Fife
CLIENT: WASPS
ARCHITECT: Nicoll Russell Studios
STRUCTURAL ENGINEER: Alasdair MacLeod Consulting
QUANTITY SURVEYOR: John Duguid Partnership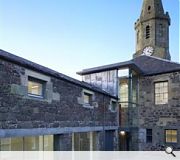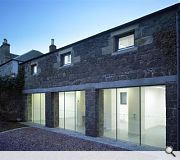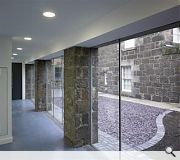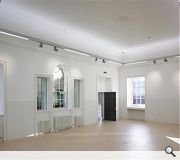 Suppliers:
Main Contractor: KBR Joinery & Design
Back to Public