The Institute of Sports & Exercise
The ISE facility is an extension to the existing Institute of Exercise & Sport at the University of Dundee. An existing gym was demolished and a small car park lost to accommodate the extension. The accommodation includes; ground floor - a new enlarged entrance, reception and foyer area, 3 offices, a state of the art fitness suite (including a mezzanine gallery). 1st floor - a conditioning studio, a multi purpose studio, storage and toilets. 2nd floor - another multi purpose studio and 3 competition standard squash courts (replacing courts demolished elsewhere on the Campus), storage and toilets.

We considered the project should have the following value added objectives:-

• Underpin the Rising Environmental Quality of the Campus
• Relate to the Scale and Developing Context of Old Hawkhill
• Help Create a Positive Sense of Identity to the Sports Complex
• Establish an Appropriate Public Face onto Hawkhill
• Create an Inviting, Stimulating and Dynamic Image
• Reflect the Activity and Energy Within
• Create Internally an Enhanced Sense of Place and Community
• Invigorate the Interior with Light, Movement and Energy
• Comply with Spirit and Requirements of DDA

We turned the feasibility study "on its head" and in line with our objectives proposed the extension should occupy the prominent corner of the site on Old Hawkhill where it would present its face, announcing its presence to the inhabitants of the campus and simultaneously address the new proposed open space of the Campus Green. Our proposal was successful in securing the commission in what was a limited competition.

One of the challenges we faced was the resolution of the changes of level, the creation of an understandable and compacted circulation pattern, and a central hub from which the circulation would diverge (and converge) and permit control and security from a reception point.

What might be considered unusual is the stacking of the studios and the placing of the squash courts on the top floor. However this was the result of the restricted site area and the logic of the numbers of users of the squash courts being less than that of the studios or the fitness suite. The ellipse shape, or "drum" as it has been called, houses the studios. The ellipse shape was seen as a logical answer to resolving the corner site condition and addressing the contextual situation. The shape neatly accommodates the escape stairs at each end of the major axis of the ellipse.

PROJECT: The Institute of Sports & Exercise
LOCATION: Hawkhill, Dundee
CLIENT: University of Dundee
ARCHITECT: Nicoll Russell Studios
STRUCTURAL ENGINEER: ARUP
SERVICES ENGINEER: Wallace Whittle
QUANTITY SURVEYOR: KLM Partnership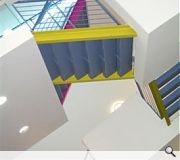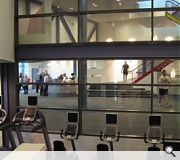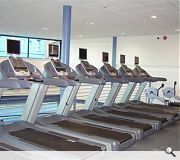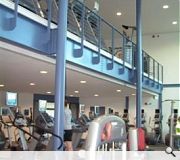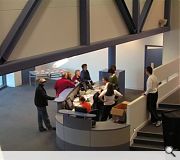 Suppliers:
Main Contractor: HBG Construction
Back to Sport and Leisure