Housing Development at Threemiletown

The development consists of 8 farm steading conversions and 20 new-build homes.
The first phase, which was completed in the autumn of 2006 offers seven conversions of 1, 2, & 3-bedroom accommodation, all designed to meet modern lifestyle requirements. The steadings have been organised internally to provide open plan living in a contemporary style.
The new-build dwellings will bring architect-designed loft-house modern aesthetics to a rural location. They have been designed as long-plan buildings in groupings to continue the development pattern of the existing steadings. These are also arranged internally to provide open plan living. With large areas of glazing, opening out to large open gardens given open views to the surrounding countryside. Homes will include 2-bed flats and 3 / 4 bedroom detached houses, all dwellings will use traditional materials of slate roofs and render and timber finishes to the walls.

PROJECT: Housing Development at Threemiletown
LOCATION: Threemiletown, West Lothian
CLIENT: Alliance Developments (Scotland) Ltd
ARCHITECT: Slorach Wood Architects
STRUCTURAL ENGINEER: Stuart Findlay Associates
QUANTITY SURVEYOR: Pottie Wilson Partnership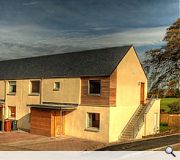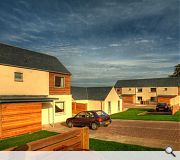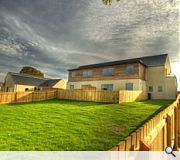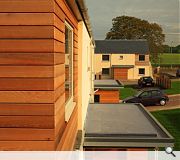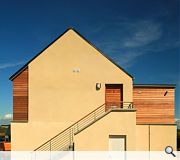 Suppliers:
Main Contractor: Alliance Developments (Scotland) Ltd
Glazing: Nordan (UK) Ltd
Roofing: Cupa Natural materials
Heating/Insulation/Ventilation: Bell Plumbing & Heating
Back to Housing