Porcelanosa showroom and HQ
Porcelanosa Grupo is a Spanish group which manufactures bathroom suites, bathroom furniture, kitchens, floor tiles and wall tiles. Quality and style define their product range, available worldwide.

This purpose built project, located in Braehead, Glasgow's premiere out of town retail facility, comprises of 1500sqm high specification office accommodation, a 1500sqm display retail area and a 5000sqm distribution warehouse.

The combination of passive energy control features and the use of Porcelanosa's high quality materials and specifications have created a particularly energy efficient building. The building orientation reduces solar gain and cooling costs whilst external sun louvers provide shading from sunshine glare. The glazed areas in the showroom and on the office floors allow for maximum natural daylight use. The ceramic rain screen system had only been utilised once before in the UK and for the first time in Scotland. The combination of the flush polished ceramic tile rain screen cladding system and the frameless Kawneer glazing resulted in a very elegant and minimal façade.

The office accommodation has been organised as an open plan arrangement around a central atrium space, incorporating raised access flooring and a high specification frameless glass partition system which allows flexibility of use and is proving to be very popular with the users.

The distribution warehouse facility accommodates high bay narrow aisle racking with associated forklift and vehicle charging area, ancillary accommodation, warehouse manager office and industrial dock loading facilities. A 15% roof light cover and photocell controlled light fittings have been incorporated to reduce energy costs. Pile construction and post stressed ground floor slab construction were utilised to resolve difficult ground conditions and to ensure compliance with the very high specification requirements for a high quality flat floor.

A landscape strategy was developed to enhance the building and the surrounding area.

PROJECT: Porcelanosa showroom and HQ
LOCATION: Braehead, Glasgow
CLIENT: Porcelanosa Grupo
ARCHITECT: macmon chartered architects
STRUCTURAL ENGINEER: Stuart McTaggart
SERVICES ENGINEER: Atco
QUANTITY SURVEYOR: Neilson Binnie McKenzie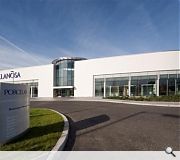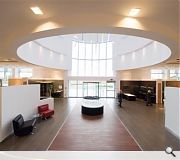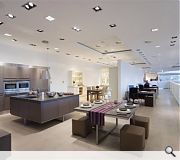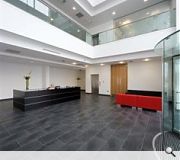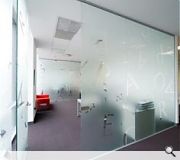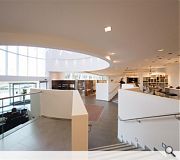 Suppliers:
Main Contractor: Dawn Construction
Photographer: Graeme Duncan
Consulting Engineer: J & D Pierce
Cladding Contractor: Kingspan
Cladding Contractor: Gormley (Masonery Services) Ltd
Glazing: Linn Tech
Glazing: Kawneer UK Ltd
Flooring: Porcelanosa
Roofing: Kingspan
Lighting: Atco
Interiors: Porcelanosa
Heating/Insulation/Ventilation: N G Bailey
Back to Retail/Commercial/Industrial