Aberdeen Solicitors Property Centre (ASPC)
Space Solutions were commissioned to provide a turnkey service to redesign and refurbish the existing Aberdeen Solicitor's Property Centre. The 3 storey city centre building directly off Union Street, Aberdeen was transformed into a state of the art property service centre for the public and local solicitor's network within Aberdeenshire.

The design brief required consolidation of the existing public accessible ground and first floor levels to the ground floor, accommodating a modern fully glazed shop front with disabled access and automatic doors, leading in to a modern open plan interior which comprises of the following main areas/facilities: an organically shaped internet HUB and coffee area; reception area; free standing search stations; seated search stations; Duty Solicitors area; child's play area plus fully serviced admin area.

Fairly extensive structural works were required to remove the existing link stair and forest of columns to create an open plan space, within a deep floor plate.

The interior flows from front to back connecting the multi-use areas via strong visual shapes and forms created by organic floor designs and sculpted ceilings. The materials and finishes are from a simple Palette of white walls composed with Cherry wood display panels and state of the art touch screens, complete with cherry wood search stations and corporate coloured feature walls.

A fresh contemporary no fuss interior for public and staff to use and work within.

PROJECT: Aberdeen Solicitors Property Centre (ASPC)
LOCATION: 40 Chapel Street, Aberdeen
CLIENT: Aberdeen Solicitors Property Centre
ARCHITECT: Space Solutions (Scotland) Ltd
STRUCTURAL ENGINEER: Robertson & Slater Partnership
SERVICES ENGINEER: Cameron Chisolm Dawson Partnership (CCDP)
QUANTITY SURVEYOR: Space Solutions (Scotland ) Ltd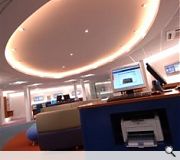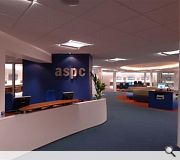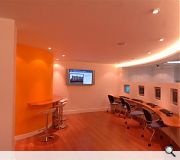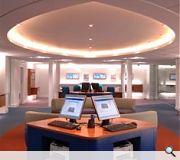 Suppliers:
Main Contractor: Alexander Oastlers
Flooring: Crichton & McHugh
Interiors: Space Solutions (Scotland) Ltd
Heating/Insulation/Ventilation: Aberdeen Mechanical Services
Back to Public