Beith THI Phase Two - Restoration of 15-19 Main Street
The Buildings are of mid 18th century vernacular design and stand at the entrance to the remains of Main Street forming the important corner to Reform Street at the heart of the Outstanding Conservation Area in Beith

Their restoration was vital to safeguard the townscape and its unique character. The gable and two floors above the pend, which face South on Reform Street have a high visual profile. They overlook the remains of the Auld Kirk and its Kirk yard, the restored buildings at the Cross and delineate this section of the large open square that now naturally forms the town centre.

Thse Category C(S) listed buildings were under imminent threat due to their semi derelict condition. In order to address this threat The Beith Townscape Heritage Initiative Trust was created.

Following successful grant funding applications the properties were restored to the highest conservation standards. They are now occupied by a small scale commercial operator at ground floor and on upper floor levels contain residential accommodation, thus providing a vibrant heart to the town throughout the day and night.

Public Realm works complement the completed restoration to the South creating a defensible area to the exposed gable elevation and incorporate the relocated memorial to to Dr. Henry Faulds, the fingerprinting pioneer.

PROJECT: Beith THI Phase Two - Restoration of 15-19 Main Street
LOCATION: Beith, Ayrshire
CLIENT: The Heritage Building Preservation Trust
ARCHITECT: Robert Potter & Partners
STRUCTURAL ENGINEER: Waterman HDC
QUANTITY SURVEYOR: Gardiner & Theobald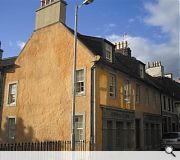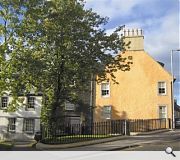 Suppliers:
Main Contractor: John Moulds (Kilmarnock) Ltd
Stone Masons: Watson Stonecraft.
Roofing: South West Roofing Services
Heating/Insulation/Ventilation: Alexander Todd & Co
Back to Historic Buildings & Conservation