Restoration of Glenmalloch Lodge

Glenmalloch Lodge was built in the 1830's by the Countess of Galloway, as either a schoolhouse for children of the Glenmalloch Estate, or a schoolhouse for the governess herself. This charming cottage is set in a remote location within the estate and contains beautiful architectural detailing which includes ornate cusped and pierced bargeboards, a lancet arched window and a distinctive, large patterned, lozenge shaped ashlar sandstone chimney stack, thought to be built out of remnants from Galloway House Estate.
The diminutive Category B listed lodge comprises a bed/sitting room, kitchen, bathroom and vestibule. It had been unoccupied for many years and in its neglected state was on the verge of collapse. Following recording, analysis, and research, the lodgehouse was carefully restored and provided with a sensitive addition at the rear of the property to include bathroom facilities.
Externally the works included indenting, re-pointing in lime mortar, reslating with second hand Lancashire slates in random widths and diminishing courses to match that lost from the roof and the installation of diamond patterned single glazed leaded windows.
Three stones were used for indents and new external walling, These were locally sourced granite, Locharbriggs red sandstone and whinstone which was split from boulders within the site boundary excavated when forming the foundation for the extension.
Interior restoration included the use of traditional lime and horse hair plastering on chestnut lath, the reuse of existing moulded architraves where possible, together with the installation of reclaimed softwood floor boarding and traditional handmade pamments.
The completed restoration is now let by the Landmark Trust who have rescued this picturesque property, not only through restoring the building fabric, but by also providing a sustainable use, as a place stay and experience its unique character.
PROJECT: Restoration of Glenmalloch Lodge
LOCATION: Cumloden Estate, Minnigaff, Newton Stewart
CLIENT: The Landmark Trust
ARCHITECT: Robert Potter & Partners
QUANTITY SURVEYOR: Armour Construction Consultants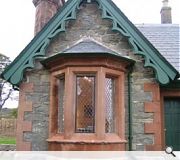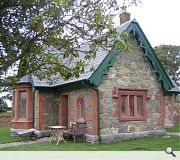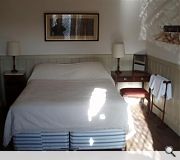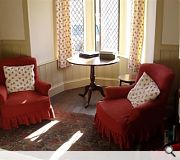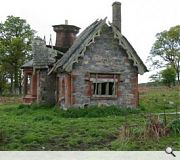 Suppliers:
Main Contractor: Cumming & Co
Stone Masons: Cumming & Co.
Glazing: Stained Glass Design Partnership
Roofing: Cumming & Co.
Heating/Insulation/Ventilation: Cumming & Co.
Back to Historic Buildings & Conservation