CONAN DOYLE MEDICAL CENTRE

This project originally began as a design for two doctors' practices (a larger and a smaller practice) who wished to keep their identities and yet to share certain non-public facilities.
The site covers an area of approximately 3065 square metres. It sits at a level of approximately 4.5 metres below the adjacent liberton road and is bounded by a stone retaining wall along its entire western perimeter. Due to the restrictive nature of the site located between the high level road and the low level burn, the construction of the building was challenging for the design team members and the contractor.
The design in a semi-wooded site and adjacent to the braid burn, is also adjacent to cameron toll shopping centre and includes the site of liberton bank house, a derelict, c listed, cottage which and has some notoriety as a place where sir arthur conan doyle spent some of his summer holidays as a boy. This cottage next door was converted simultaneously by nicholas groves-raines architects for the cockburn conservation trust acting on behalf of dunedin special school and the entire site was master planned by ourselves.
Planning permission was granted in july 2004 and funding was eventually secured form the national health service. The client was kilmartin developers who owned the site. The project proceeded on the basis of one practice, being that currently located in mayfield road, edinburgh.
The plan revolves around an inner "secret garden" which contained an existing mature tree on the site (sadly this has had to be replaced).
The medical practice of eight consulting rooms, treatment rooms and other facilities are all placed on the ground floor for ease of access to the public. The first floor is reserved for non-surgical activities and will be used by a variety of users, not just those working with patients in the buildings but health visitors, district nurses, midwives etc who will come and go during the course of the day.
The principal design idea behind the group practice is that all patient waiting areas and circulation on the ground floor, and staff common areas and circulation on the first floors should focus on a major private walled garden. The garden acts as an oasis on the site for those visiting the doctors and can be used by patients on sunny days and also seen directly through the entrance doors. It will therefore also, have the characteristics of a "secret garden" and will produce a calming and appropriate atmosphere for those waiting to see a doctor and indeed the staff working at both levels.

PROJECT: CONAN DOYLE MEDICAL CENTRE
LOCATION: LIBERTON, EDINBURGH
CLIENT: KILMARTIN PROPERTIES
ARCHITECT: RICHARD MURPHY ARCHITECTS
STRUCTURAL ENGINEER: JACOBS UK LTD
SERVICES ENGINEER: HARLEY HADDOW PARTNERSHIP
QUANTITY SURVEYOR: SUMMERFIELD ROBB CLARK LTD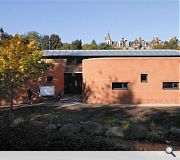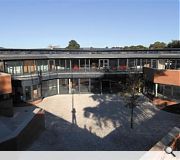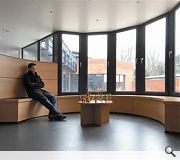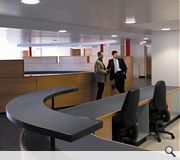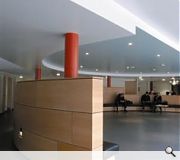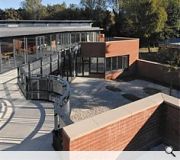 Suppliers:
Main Contractor: INTERSERVE BUILDING
Cladding Contractor: CEDAR
Glazing: SIDEY
Roofing: KALZIP
Back to Health