Queens Quay Public Realm and Infrastructure
Completed in June 2007, the Infrastructure and Public Realm works on the 16 acre site at Queens Quay in Clydebank is the implemented first phase of the 2004 Page\Park Master Plan for the redevelopment and regeneration of the 80 acre site in Clydebank formally occupied by John Brown Shipyards.

QUEENS QUAY

The site at the eastern end of the master plan area, known as Queens Quay, had significant contamination issues, and also contained the slipway structures required for the ship construction and launching.

Page\Park, with Ian White Associates, URS Consulting Engineers and Gardiner and Theobald LLP were commissioned in 2004 to develop a plan and package of works for the 16 acre Queens Quay site to include decontamination and the installation of a new sheet piled quay wall.

The plan developed and constructed on the site, adopted the principles described in the Master Plan Design Guidelines – namely the creation of clear urban streets, with buildings built to back of pavement, aligning and engaging with adjacent streets and public spaces. Buildings were placed and orientated to mark key intersections and urban places on the plan, and to define and guide pedestrians along wide tree lined avenues down to the water.

A civic arrival square at the north east of the site, and a further civic square in the north west corner at the river mark the key public arrival and destination points on the plan, and a 300m long pedestrian promenade along the river's edge allows pedestrians to enjoy walking along the river in this location for the first time in more than 150 years.

The realisation of the £7.5M scheme of infrastructure and public realm works now enables the site to be developed incrementally in plots, acting as a catalyst for development along the river edge. The first of these developments have already been completed – the new Clydebank College and Titan Enterprise Centre – both demonstrating positive interaction and contribution to the public realm they help define.

MATERIALS

The quality of spaces and materials used at Queens Quay were specifically designed and chosen to set a definitive benchmark for future phases of construction at Queens Quay and other areas covered by the Master Plan. Granite sets and natural materials are used extensively in both pavement and roadway constructions, and bespoke castings for the river edge balustrading provide a unique sense of place and build quality for this significant Scottish regeneration project.

PROJECT: Queens Quay Public Realm and Infrastructure
LOCATION: Queens Quay, Clydebank
CLIENT: Clydebank Re-built Ltd
ARCHITECT: Page \ Park Architects
STRUCTURAL ENGINEER: URS Corporation Ltd
QUANTITY SURVEYOR: Gardiner and Theobald LLP
LANDSCAPE ARCHITECT: Ian White Associates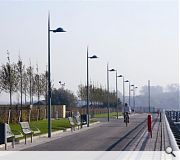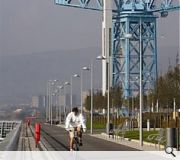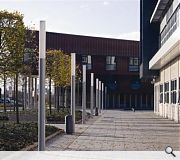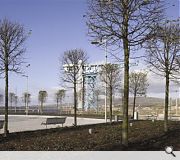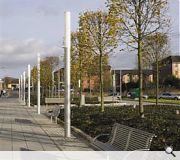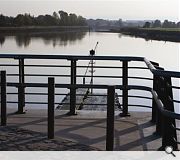 Suppliers:
Main Contractor: Raynesway Construction Ltd
Photographer: http://www.architecturescotland.co.uk/practices/98/Keith_Hunter_Photography.html
Back to Infrastructure, Urban Design and Landscape