Alterations To Room 372, Faculty Common Room
The brief was to provide a modern Common Room Facility in lieu of the existing – a mostly barren, drab space sparsely populated by miscellaneous chairs and tables, anonymous lockers and several vending machines. The current space was primarily intended for use by students to wait between and before classes, but the Faculty wished the refurbished area to have a much more flexible approach, with presentation, networking and wi-fi capabilities, together with improved locker / storage and information distribution facilities for both staff and students.

In order to achieve this our office approached the design by creating a bespoke 'Utility Wall' feature, which would incorporate and contain the hard, fixed aspects of all these elements, with associated loose furniture elsewhere to help maintain the Room's flexibility of use. This allowed the refurbishment of the existing room space to proceed while the 'Utility Wall' was constructed off site prior to final installation and commission in the final weeks.

PROJECT: Alterations To Room 372, Faculty Common Room
LOCATION: James Watt Building, The University Of Glasgow
CLIENT: The University Of Glasgow, Estates & Buildings
STRUCTURAL ENGINEER: The Structural Partnership
SERVICES ENGINEER: DMP Consulting Engineers Ltd
QUANTITY SURVEYOR: Neilson Binnie-McKenzie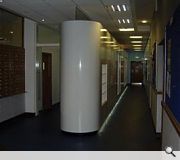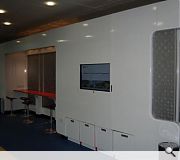 Suppliers:
Main Contractor: Elmwood (Glasgow) Ltd.
Interiors: Azzurro
Back to Education