Alterations To Room 468, Post-Graduate Common Room
The brief was to provide a modern Common Room Facility in lieu of the existing – again a mostly barren, drably decorated space sparsely populated by miscellaneous chairs and tables. Similar to Room 372 the current space was primarily intended for use by students to wait between and before classes, but the Faculty wished the refurbished area to have a much more flexible approach, with presentation, networking and wi-fi capabilities, together with improved locker / storage and information distribution facilities for students. Being a Post-Graduate facility, we were expected to make the space as comfortable as possible, to encourage longer periods of study or research, whether it be of a casual or more intense nature.

The primary design feature here was to extend the existing mezzanine balcony space to allow for a more focussed 'private study' area upstairs, leaving the lower floor open for presentation / general activities. In order to retain the spacious feeling within, the extension was created using glass panel inserts into a steel frame. Furthermore the existing entry into the room was rationalised and the openings infilled with Reglit Glass to maximise light into the adjacent corridor.

PROJECT: Alterations To Room 468, Post-Graduate Common Room
LOCATION: James Watt Building, The University Of Glasgow
CLIENT: The University Of Glasgow, Estates & Buildings
STRUCTURAL ENGINEER: The Structural Partnership
SERVICES ENGINEER: DMP Consulting Engineers Ltd
QUANTITY SURVEYOR: Neilson Binnie-McKenzie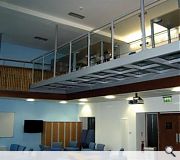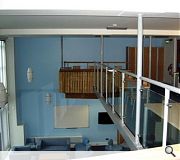 Suppliers:
Main Contractor: Elmwood (Glasgow) Ltd.
Interiors: Azzurro
Back to Education