Mondriaan, Phase 2
Located on a brownfield site on the banks of the Forth and Clyde Canal, the Mondriaan development consists of 4 storey flats, 2 storey flats and townhouses with associated private parking and amenity spaces. Borrowing influences from Borneo peninsula in Amsterdam, the Mondriaan development has been designed to echo the flow and contours of the canal. The townhouses are finished with raised timber deck terraces with free formed edges reflecting the articulation of the canal banks and site boundary. The central landscaped area comprises rolling grass mounds with a central hard surfacing route snaking through the space which creates a series of amenity, relaxation and contemplation spaces.

The site is located on the disused McLellan Rubberworks situated on the banks of the Forth and Clyde Canal. It is bounded to the north by Shuna Street, to the east by Bilsland Drive and to the west by Ruchill Street.

The unique locations together with the linear proportions of the site have assisted in developing a clear structured site layout. Along the north edge of the site, the development comprises four storey blocks of flats providing an urban edge fronting onto Shuna Street. In contrast, along the south edge fronting onto the canal, is a mixture of two storey flats and three storey townhouses. This linear approach enables the centre of the site to be planned with a central green landscaped area bounded and penetrated by the site access road providing access to recessed parking bays separated by raised beds of planting.

The linear approach also enables a structured arrangement to be adopted in the elevational treatment to the flats and townhouses, which have a hard and soft façade respectively. Frontages onto the roads are principally finished with brickwork and penetrated with window openings as required. The south facades facing onto the central landscaped area and canal respectively have a softer finish utilising a mixed palette of materials, finishes and colours together with timber deck terraces and balconies.

PROJECT: Mondriaan, Phase 2
LOCATION: Glasgow
CLIENT: Bellway Homes Scotland Ltd
STRUCTURAL ENGINEER: Scott Bennett Associates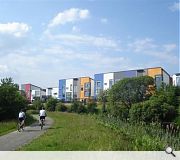 Image by Holmes Partnership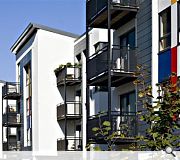 Image by John Cooper
Suppliers:
Main Contractor: Bellway Homes
Photographer: John Cooper/Holmes Partnership
Back to Housing