NEW COLLEGE CAMPUS FOR CLYDEBANK COLLEGE

SMC Jenkins & Marr's new £33M Clydebank College Campus is the major catalyst in a bold new urban regeneration project, on the site of the former John Brown Shipyard. The project is the largest single site Further Education campus relocation project in Scotland.

John Brown Ship Engineering was one of the key employers in Clydebank in the 1900's. In its early years, the College's main focus was to provide quality apprentices to both John Brown Engineering and Singer. The College provided Clydebank's workforce with the skills required to keep abreast of technological advances and to build the local economy.

Clydebank long ago said goodbye to shipbuilding but not to its College. In 2005, permission was granted for a new, state of the art campus at Queens' Quay, the site that originally housed John Brown Engineering. Clydebank College, which once trained the apprentices who built the most talked about ships in the world, was now pivotal in revitalising the community - the building actually straddles the slips where these famous ships were built.

SMC Jenkins & Marr was closely involved in the development of the master-plan, which was sponsored by Clydebank Rebuilt. The former shipyard site had effectively cut off the town from the riverside. With the creation of new streets (routes) and public uses (squares, community facilities) people will be drawn down into the site and facilities along the river edge, ensuring that they stay on the riverside, engaging with the new facilities there.

The building has two entrances; one facing the town, the other the confluence of the Rivers Cart and Clyde. Both entrances have large, overhanging, cantilevered canopies, which appear to 'float' above you as you enter the College. Creating a strong visual landmark, their form alludes to the scale and visual presence of the great hulking shapes of ships, and the cranes which built them, which so dominated the townscape in years gone by.

The College has several new innovative forms of teaching space, such as the Training Restaurant and Hair and Beauty Salon, each of which fronts onto one of the new public squares and is open to the general public, allowing students to learn in "real" work environments.

The campus was officially opened on 20th September 2007 by Minister for Education, Fiona Hyslop.

PROJECT: NEW COLLEGE CAMPUS FOR CLYDEBANK COLLEGE
LOCATION: CLYDEBANK
CLIENT: CLYDEBANK COLLEGE
ARCHITECT: SMC JENKINS & MARR
STRUCTURAL ENGINEER: STRUER CONSULTING ENGINEERS LTD.
SERVICES ENGINEER: HULLEY & KIRKWOOD
QUANTITY SURVEYOR: TURNER TOWNSEND COST MANAGEMENT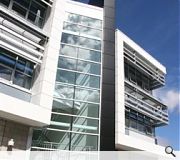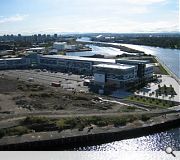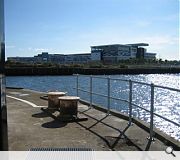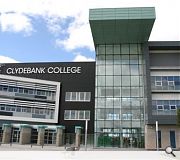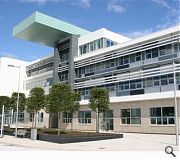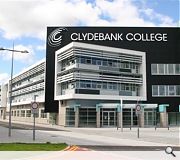 Suppliers:
Main Contractor: HBG CONSTRUCTION LTD
Roofing: LAKESMERE
Cladding Contractor: THYSSEN KRUPP
Glazing: SOLAGLAS LTD / SAINT GOBAIN
Flooring: HI-TECH FLOORING LTD
Heating/Insulation/Ventilation: BALFOUR KILPATRICK LTD
Ironmongery: WILLIAMS IRONMONGERY LTD
Paritioning: BECKER (SLIDING PARTITIONS) LTD/PLANET PARTITIONING LTD
Masonry: PATERSON QUARRIES LTD
Steel Frame Contractor: BHC LTD STRUCTURAL ENGINEERS
Back to Education