Rutherglen Glencairn Junior Football Club

Having occupied their site at glasgow road for over a hundred years, in 2006 part of rutherglen football clubs grounds were subject to compulsory purchase by the scottish executive for the new m74 extension. The resulting, fairly complex project comprises a social club with bars, lounge, function room, committee rooms and supporting facilities; club changing facilities for home and away teams; new football ground with covered spectator stand, terracing, toilets and catering facilities; car parking and external works.
Unfortunately the immediate environs of the buildings present significant issues of security, vandalism and atmospheric pollution and their resolution has been integral to the design solution, complemented by a palette of high quality, durable materials. External windows were expressly excluded by the brief, leaving a challenging task for the design team. The quality of internal environment is compensated by employing a "roman villa" plan with key spaces arranged around a secure internal courtyard. This provides a pool of light in the heart of the plan lined in softer, natural materials; a point of orientation and a useful external social space. The exterior strategy is to provide tough, simple but modelled and textured volumes. The chosen facing brick type was a stock brick, dimensionally slightly irregular with a richly varied texture and colour. The mortar a light cream emphasising the brick module and its roughness but the pointing almost flush so that the mass of the whole dominates. Openings in the walls, particularly the main entrance in the social club, are carefully modelled in brick to enhance the general feel of solidity and depth.
Internally the social club has been designed to provide a warm and welcoming experience to support a variety of community events from wedding receptions to bingo nights. The main hall, bar and lounge are finished in a rich palate of warm colours and natural materials. To ensure the club maintained its varied program of community activities it was important to ensure that the bar, hall and lounge could function as one large venue, with an option to allow each room to be closed off for smaller weekday events.
PROJECT: Rutherglen Glencairn Junior Football Club
LOCATION: Glasgow Road / Toryglen Road, Rutherglen
CLIENT: Rutherglen Glencairn Football and Social Club
ARCHITECT: studioKAP
STRUCTURAL ENGINEER: Scott Wilson
SERVICES ENGINEER: K J Tait
QUANTITY SURVEYOR: Carr Maclean and Watson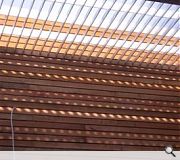 Courtyard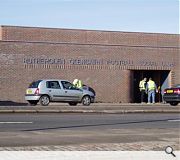 Glasgow Road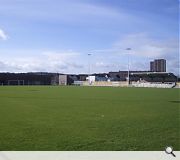 Pitches
Suppliers:
Main Contractor: Maxi Construction Ltd
Consulting Engineer: PSD (Pitch design)
Back to Sport and Leisure