Murrayfield Villa

The site for this house was created from a portion of garden of an existing listed Victorian detached house in an affluent residential area on the west of Edinburgh's city centre.
The proposal by zone architects is for a new sandstone villa which aims to be at least as good as its Victorian neighbours but with a contemporary character. While the new house respects the pattern and character of grand detached villas in gardens, it is positioned in relation to the street in order to primarily be perceived as an end block to the neighbouring semi-detached Victorian residences. The new house deliberately relates to the two storey stone solidity of the semi-detached neighbours, while the corner entrance and receding roof terrace sets the building apart as an individual composition. There is an ambition to rearticulate or accentuate qualities of an existing urban context while contributing a clear new identity.
The character of the house is achieved through carefully considered but contemporary detailing of conventional materials- stone, timber, glass, steel.
Internally, the flexible layout aims to meet the requirements of family life whilst forming a strong relationship of the interior to both the front and rear gardens. Parents have a spacious master bedroom suite on the second floor with a south facing terrace giving private sun space. The ground floor has a suite of three reception rooms and a study, kitchen and utility room. The first floor has four family bedrooms.
PROJECT: Murrayfield Villa
LOCATION: 20 Henderland Road, Edinburgh
CLIENT: Mr and Mrs Robertson
ARCHITECT: Zone Architects
STRUCTURAL ENGINEER: Harley Haddow
QUANTITY SURVEYOR: Allied Surveyors, Haddington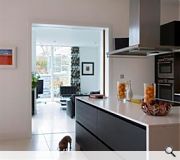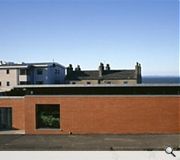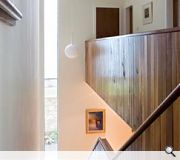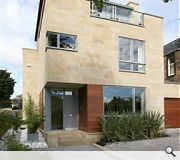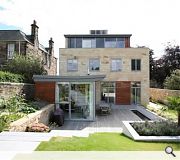 Suppliers:
Main Contractor: Peter Moran Ltd
Photographer: John Reiach - exterior images
Photographer: Douglas Gibb - Interior images
Back to Housing