Waterloo Place - (residential development)

The existing building comprised the category A listed former old post office by archibald elliot and joseph kay, together with a plain concrete extension, built into the hillside adjacent calton cemetery in 1967 following a fire in the main building in the 1950's.

The project involved a new steel framed extension with glass curtain wall to the west, together with modifications to the south and east facades, conservation and repair to the fabric of the listed building and the formation of a new communal roof terrace.

The interior was stripped back to the concrete frame and laid out as thirty seven new residential apartments.

The design seeks to describe the key characteristics of the unusual urban setting:
- the listed building is part of the formal civic grandeur of waterloo place. The strong containment of the street contrasts with the dramatic experience of space and view to the rear.
- the west facade is fully glazed to dramatise the experience of height overlooking calton road and waverly station. External louvre screens act as protective barriers to full height opening lights which further exploit the experience of height. The facade is conceived as a series of layers to present a strong visual pattern and play down the potential effect internal furnishings might otherwise present through the glazing.
- the south facade incorporates a section of curtain wall which allows wide views of arthur's seat and salisbury crags into the main bedrooms. A series of ribbon windows provide "cinemascope" views of jeffrey street and the lower reaches of the old town from the living accommodation. In contrast, the corner glazing addresses views to the castle.
- the east facade overlooks the tranquil space of calton burial ground. Here, a series of projecting box windows engage with the interplay of forms and monuments across the hill and exploit the sense of intimacy.
- the building's ultimate destination is the shared roof terrace which provides panoramic views all round and allows an exposure to the sky unusual in an urban setting.

Curtain wall glazing is green tinted which harmonises the building with its semi landscape setting to the east while the retained sandstone on the south facade relates to the mass of building to the west.

PROJECT: Waterloo Place - (residential development)
LOCATION: 6 Waterloo Place, Edinburgh EH1 3EG
CLIENT: BL Developments Ltd
ARCHITECT: Morgan McDonnell Architecture Ltd
STRUCTURAL ENGINEER: Jim McColl Associates
SERVICES ENGINEER: D R Murray Assoc.
QUANTITY SURVEYOR: Doig & Smith
east facade (facing calton burial ground)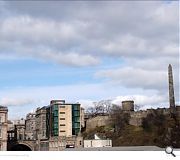 sandstone & landscape setting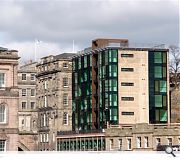 view from south west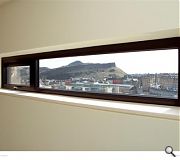 view through ribbon window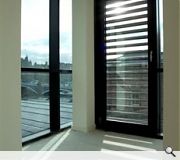 view through south west corner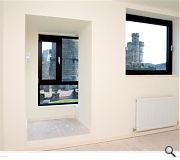 view to calton burial ground
Suppliers:
Stone Masons: Forth Stone Ltd.
Glazing: Nortek Aluminium Systems Ltd.
Roofing: Trinity Roofing Ltd.
Heating/Insulation/Ventilation: Emtec Building Services
Back to Retail/Commercial/Industrial