Headquarters building

This new building is located on the outskirts of Haddington in East Lothian, with panoramic views to the Lammermuir Hills. The building will be the new headquarters for McInroy & Wood, a leading firm of personal investment managers.
The site provides a secluded but spectacular hillside setting, bounded by mature trees and agricultural land. The two storey L-shaped building was designed as a contemporary re-interpretation of a country house appropriate for its rural location. It forms a south-facing cloistered courtyard with double-height timber columns supporting a zinc and natural slate roof, with sandstone walls reaching out into the rural landscape. Most areas of the building rely solely on natural through ventilation with solar shading provided by the oversailing roof.
The building utilises intelligent building management systems for both mechanical and electrical services. Natural ventilation is used in most areas, with energy-efficient heat-pumps used elsewhere. Heating is triggered by PIR sensors and controlled by the Building Management System. Lighting is controlled by daylight sensors and presence detectors.
The building adopts a modern vernacular, espousing a narrative of 'wall, cloister and enclosure'.
PROJECT: Headquarters building
LOCATION: East Lothian
CLIENT: McInroy & Wood
ARCHITECT: Michael Laird Architects
STRUCTURAL ENGINEER: SKM Anthony Hunts
SERVICES ENGINEER: KJ Tait Engineers
QUANTITY SURVEYOR: CBA Chartered Quantity Surveyors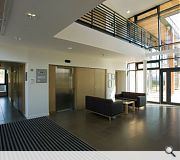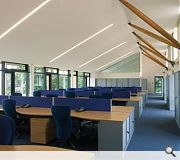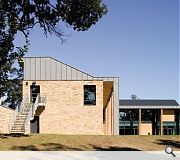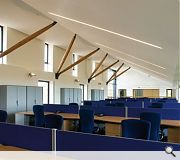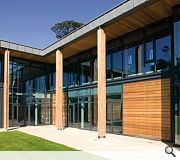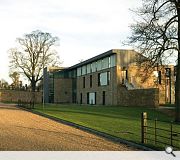 Suppliers:
Main Contractor: Watson Construction Group Limited
Photographer: Paul Zanre
Back to Retail/Commercial/Industrial