Castle Business Park - Buildings 10 & 11
Since 1994 Castle Business Park has played a key role in the development of Stirling as a business location, with notable success in attracting inward investment, boosting employment growth and contributing significantly to the economic regeneration of the town.

Michael Laird Architects were appointed by City of Stirling Business Parks Ltd to design a further phase comprising two speculative office buildings (Buildings 10 & 11), each of 30,300 sqft (gross internal). The 4.76 acre site was the last remaining development plot within the Park.

Previously Michael Laird Architects designed Buildings 7, 8 & 9. The design of the latest buildings simplifies the architectural language to enhance the clarity of the built form.

The two-storey accommodation is formed from a pair of linear office elements perpendicular to each other in a 'T' shape. A flat roofed, double-height entrance area lies at the intersection.

Both buildings have been designed and positioned on the site to embrace an open, landscaped courtyard. The double -height glazed entrances of each building are accessed from and open directly onto these courtyard spaces. General parking is tucked behind the buildings. Impressive long views are accommodated to the Castle rock to the south east and to the Trossachs to the north west.

The entrance area forms the social hub of the building containing the main circulation stair and lift with extensive areas of glazing to ensure a bright and lively space. Materials include reconstituted stone, rendered panels, slate roofs and aluminium-framed windows.

The facades have been designed to differentiate between the ground and first floor levels. The puncture windows on the first floor form a strong repetitive device bringing order and clarity to the facades. All window units are glazed to the floor level to allow for maximum daylighting and transparency.

PROJECT: Castle Business Park - Buildings 10 & 11
LOCATION: Stirling
CLIENT: City of Stirling Business Parks Ltd
ARCHITECT: Michael Laird Architects
STRUCTURAL ENGINEER: Halcrow Yolles (Edinburgh)
SERVICES ENGINEER: Henderson Warnock (Glasgow)
QUANTITY SURVEYOR: Thomas and Adamson (Edinburgh)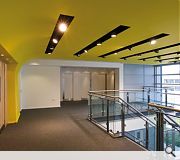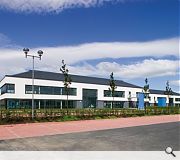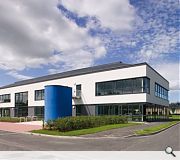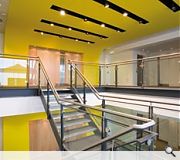 Suppliers:
Main Contractor: Muir Construction (Fife)
Photographer: Paul Zanre
Back to Retail/Commercial/Industrial