Heart of Hawick

HEART OF HAWICK PROJECT
A single project comprising two buildings:

TOWER MILL
'A' listed former spinning mill built in 1852, unique in Scotland, as it sits on a massive arch over the Slitrig Water. By the 1980's the mill was derelict and at risk. Gray, Marshall & Associates were commissioned as architects in 2004.

Tower Mill is owned and managed by Scottish Borders Council as an integrated arts centre; the theatre/cinema is operated with assistance from the Filmhouse, Edinburgh; the café is operated by Beanscene. Tower Mill now provides:
o a cinema/theatre
o café bar
o exhibition space
o visitor welcome centre
o ICT suite
o creative workspaces.

Tower Mill is the focus for the Heart of Hawick project. A vibrant and connected place, engaged with the local community and a gateway for all to the creative future of Hawick, achieved by:
o creating a community arts centre – a community enterprise, which includes and supports local arts and cultural organisations and includes their voice in decision-making.
o promoting contemporary visual arts and crafts in a quality setting
o creating workspace for professional artists and craftspeople
o establishing a high end ICT learning centre

THE HERITAGE HUB
The former Corn Exchange has been converted and extended to form a Family History Centre for the Scottish Borders, which:
o Brings together collections and archives from across the Scottish Borders, housed in conditions designed to BS 5454. It is an essential stepping stone to digitisation and cutting edge ICT projects to present them to a global audience.
o Enhances public access and use - the ground floor provides two fully accessible public search rooms, exhibition space and ancillary facilities.

ACHIEVING REGENERATION AIMS
• A run down area is now the focus of social and cultural activities.
• Key historic buildings have been restored and given viable uses.
• New design elements have signalled a positive engagement between the town and a range of cultural activities.
• The activities have generated significant new employment and created facilities for a significant number of visitors and users.


PROJECT: Heart of Hawick
LOCATION: Hawick, Scottish Borders
CLIENT: Scottish Borders Council
ARCHITECT: Gray, Marshall & Associates
STRUCTURAL ENGINEER: Waterman HDC
SERVICES ENGINEER: KJ Tait Engineers
QUANTITY SURVEYOR: Doig & Smith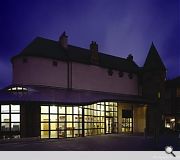 Heritage Hub
Tower Mill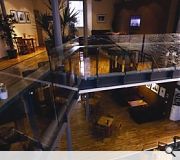 Tower Mill Atrium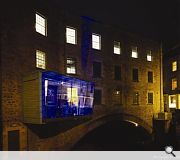 Tower Mill Gallery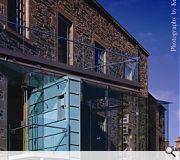 Tower Mill Lobby Balcony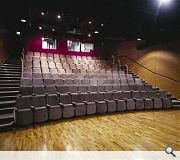 Tower Mill Theatre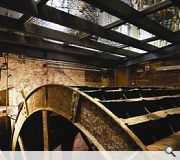 Tower Mill Water Wheel
Suppliers:
Main Contractor: GHI Contracts Ltd
Acoustic Consultant: Sandy Brown Associates
Rooflight Contractor: Finlaysons
Stone Masons: Sandy McLean
Safety Consultant: Adrain Safety
Glazing: CSG Limited
Flooring: Veitchi
Flooring: GL Floors
Roofing: D Blake & Co Ltd
Electrical Contractor: EIC Ltd
Lighting: Northern Light
Interiors: Gray, Marshall & Associates
Heating/Insulation/Ventilation: Livingston Mechanical Services Ltd
Back to Historic Buildings & Conservation