Marionville Court Care Home

Marionville Court care home is a new £6.6m, 60 bed residential care home and day care facility for the City of Edinburgh Council. The building exceeds current care standards and is designed in line with Edinburgh's City plan for older people "A city for All Ages", sustainable principles and 'secured by design'.
The care home environment was required to be barrier free & dementia friendly with flexibility to cater for high dependency, a range of facilities & variety of spaces.
The detailed project brief and scheme was developed through an inclusive consultative process that enabled an understanding of the needs of residents, residents group SAGE, relatives, care staff and managers.
The building has two key components, the 'street' of communal areas and domestic scale 'houses', overlooking south facing courtyards.
The 'street' is at the north of the site with staff and service areas forming a buffer to the relocated football pitch. At the centre of the street is the care home entrance / reception with day care adjacent Lochend Road South sharing access and parking. A large communal area overlooks the park at the other end of the 'street'.
A single corridor runs from the 'house' living rooms and entrance to the 'street' down to south facing quiet areas that overlook Marionville Road and Arthur's seat.
The bedroom is a key space for residents and staff and has been designed for privacy, providing space to entertain, accommodate residents own furniture and area for manoeuvring.
Sustainability has been fundamental in the building design with input from CEC urban sustainability unit, consultation, structural design and space to allow future adaptation and building orientation to maximise sunlight and views. Materials have been specified with consideration of future recycling and U-values exceed building regulations by 25%. Water and space heating is provided by a Bio-Mass boiler.
PROJECT: Marionville Court Care Home
LOCATION: 1-3 Lochend Road South, Lochend, Edinburgh
CLIENT: CEL Social Work / City Developments
ARCHITECT: Gareth Hoskins Architects Limited
STRUCTURAL ENGINEER: Elliot & Co
SERVICES ENGINEER: NG Bailey
QUANTITY SURVEYOR: Thomas Adamson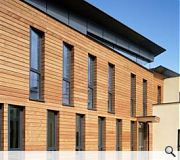 Marionville - Wood Detail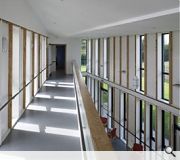 Marionville_Atrium
Suppliers:
Main Contractor: Barr Construction Ltd
Photographer: Andrew Lee
Back to Health