RE:Locate for Queen Margaret University

RE:Locate is a major new-build campus for Queen Margaret University. Designed around an extensive flagship building, it has been a key tool in the client gaining "Top 10 Modern University" status and is a strong visual statement of their progressive approach to education. It is one of only a handful of UK university campuses to receive an 'excellent' BREEAM rating.
From the outset, the client had a strong vision for a sustainable parkland campus and was committed to developing the brief through constructive dialogue. They wanted an attractive and distinctive campus that felt welcoming and inspiring.
The 35 acre parkland site is on the outskirts of Edinburgh. It has been masterplanned in close consultation with various stakeholders, including the local community. As well as the main building (20,000m2), facilities include a combined sports centre and student union, student residences and a biomass energy hub.
The main building is a long and relatively low structure, designed to meet the demands of high density use of the ground floor. The plan promotes connectivity and maximises access to natural ventilation, daylight and views. Activity is focused on a terraced internal atrium which contains the non-secure areas of the Learning Resource Centre. This has increased LRC capacity to upwards of 1000 study spaces, integrated the facility into the heart of the University and maximised opportunities for group and informal learning.
Teaching functions are laid out to the east of the atrium and administration to the west. The co-location has generated a dynamic teaching, learning and working environment and effected a culture change in the administrative departments, who have embraced open-plan working and the use of shared 'break out' spaces.
Sustainability has been the key driver behind QMU's agenda for the new campus. The building's layout is not only conducive to social learning but is highly efficient. The use of 'thin client' technology has drastically reduced energy consumption and heat generation and carbon emissions have been cut by 75% using a biomass heating system. Rainwater is harvested in a SUDS pond.
PROJECT: RE:Locate for Queen Margaret University
LOCATION: Musselburgh, Edinburgh
CLIENT: Queen Margaret University
ARCHITECT: Dyer
STRUCTURAL ENGINEER: Buro Happold
SERVICES ENGINEER: KJ Tait
QUANTITY SURVEYOR: Cyril Sweett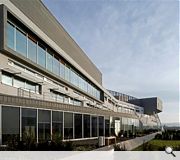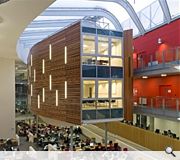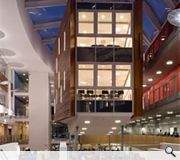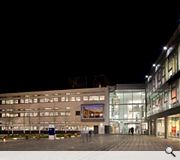 Suppliers:
Main Contractor: Carillion
Photographer: Keith Hunter
Landscaping: Ian White Associates
Project Manager: Heery International
Back to Education