Sylvan House and Studio
Background:
Sylvan House is a Category B listed historic building. The two & a half storey house stands at the south end of a walled garden with a 40m² single storey garage to the north.

Brief:
City Architecture Office was approached by the current owners to modernise the whole house. Their growing family and need for home workspace (as composers) generated incompatibility with the existing accommodation. The key concerns were to maximise space efficiency, natural light, maintain privacy and sensitively refurbish the historic elements in a cost effective manner. The only access is very restricted via a narrow unmettled lane. This required innovative use of materials and construction methods to suit what could be brought onto site.

Form & Construction:
The central garden acts as an outside room for family & social activities. The existing garage provided the opportunity to create a modern flexible studio space and this would become the foil to a transitional courtyard space between old and new.

The garage structure was in a very poor state of repair however with care, the single skin masonry and large sliding panel door were retained. A large steel beam allows a slender flat warm roof structure to be carried. The overlooked and overshadowed position of the studio along with the client's necessity for privacy made the provision of natural light very challenging. This was achieved by opening up and highly glazing the south elevation to the garden courtyard with a lowered terrace. This maintains privacy from the adjacent road. A rooftop west facing eyelid light chute funnels afternoon & evening sunlight deep into the room after the south facing side is in shade.

Materials & Landscape:
All the original features of the main house were preserved. Upon entering the courtyard space through a rustic gate, one's senses are stimulated by the sight & sound of water in a zinc reflection pool fed by stainless steel rainwater goods at the studio entrance. Retaining walls of baggeridge blue brickwork with concrete copes are at a perfect height for seating. The large glazed studio window gives reflected views back to the main house.

PROJECT: Sylvan House and Studio
LOCATION: 13 Sylvan Place, Edinburgh
CLIENT: Dee & Stephen Deazley-Isaacs
STRUCTURAL ENGINEER: Peter Robinson Associates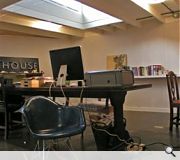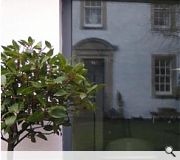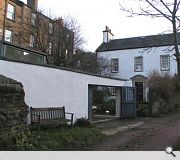 Suppliers:
Main Contractor: Paul Caldwell
Photographer: Richard Howl
Roofing: Leith Roofing Scotland
Back to Historic Buildings & Conservation