Lochgelly Miners Institute
This category B listed building was built in 1923 for the people of Lochgelly by the Coal Industry Social Welfare organisation. The architects had realised its importance while undertaking other projects in the area and had suggested various options to the Council. The Heritage Building Preservation Trust was approached and the team began seeking a use for the building through which it would have a positive impact on the regeneration of the Town.

With the support of Fife Council and a number of agencies, including Fife HARCA, the design team presented the idea of a local community-based further education & technical training facility to the Adam Smith College & Fife Women's Technology Centre who responded with enthusiasm. As part of the funding strategy for the project, Heritage Building Preservation Trust obtained enhanced grants from a number of bodies. The building was then purchased from Fife Council by Heritage Building Preservation Trust who undertook the project. On completion, it was sold to Fife HARCA who will own and manage it and rent it to the two training institutions.

Extensive restoration work was required due to the extent of damage as it had stood neglected and empty for many years and had suffered much structural decay, infestation by pigeons and fungal growth.

The two upper floors were adapted to the new use of computer training and community spaces while retaining or replacing the main architectural features. To accommodate the trade training facilities, the basement floor was lowered. This created its own structural challenges. The high water table had to be dealt and this was exacerbated by the uncovering of an old stone well situated partially under the corner of the building.

The building has now regained its pride of place in the town's main street.

PROJECT: Lochgelly Miners Institute
LOCATION: Main Street, Lochgelly, Fife
CLIENT: Heritage Building Preservation Trust
ARCHITECT: Dearle and Henderson
STRUCTURAL ENGINEER: McKinney Nicholson
SERVICES ENGINEER: Enconsult Ltd
QUANTITY SURVEYOR: Dearle and Henderson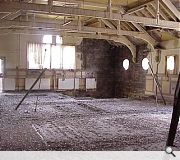 IT Training Room pre retoration showing extensive rot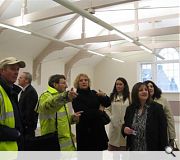 IT Training Room restored with the client showing representatives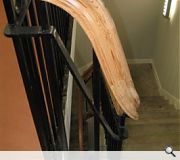 Recreated balustrading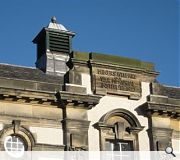 Reharled front facade with one of the ventilation towers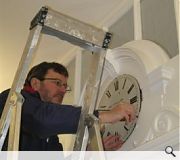 The clock being replaced in the entrance screen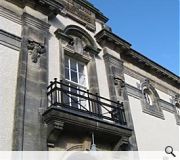 The reharled facade & replicated balcony over the entrance
Suppliers:
Main Contractor: Richard Street Ltd
Consulting Engineer: McKinney Nicholson
Joinerwork: Richard Street Ltd
Stone Masons: Forth Stone Ltd
Glazing: Howells Patent Glazing
Flooring: Bryson Carpets
Roofing: Peter Kelly & Sons (slating)
Lighting: C & F Electrical
Heating/Insulation/Ventilation: Jaydee Services
Photographer: Jeremy Watson of Dearle and Henderson
Conservation Architect: Stephen Newsom
Roughcasting Contractor: Mackie Robertson
Rotworks: Peter Cox
Back to Historic Buildings & Conservation