The Coal Bunker

To alter existing coal bunker to for light spacious garden room, not to dominate existing house and compliment existing A listed house with in budget of £20 000.
Design Approach:

To create a modern Scottish extension
Utilize existing foundations and walls of the coal bunker and cantilever functional requirements
From masonry base, a typical detail used in Edinburgh's old town.
The glass roof above junction with existing house, creates a dramatic effect on entrance, roof appears to float, yet bounces light down into existing kitchen, the sliding corner windows frame the garden, in the summer the window can slide back allowing the garden to be part of the room.
To tie the building into the garden the dwarf wall is extended out to take the carry the structure and to enclose the water feature unifying the whole design.
Construction

A steel frame sits on white rendered masonry base, the wood used for the door and the frame is Oroko,
The cills are black granite. The details are as minimalist as prudently possible.
PROJECT: The Coal Bunker
LOCATION: 10 Pittville St, Edinburgh
CLIENT: Jim Gilchrist
ARCHITECT: CRICHTON WOOD ARCHITECTS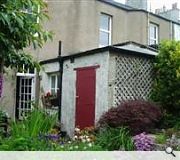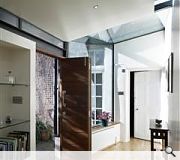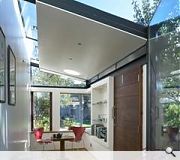 Suppliers:
Main Contractor: Ronald A Fraser
Photographer: Andrew Lee
Back to Housing