Proposed Affordable New Build Housing Units

Background
The Isle of Gigha is the most southern of the Hebridean Isles located a short distance off the
western side of the Kintyre Peninsula. A community based buy out of the island in 2003 provided the opportunity to address long term problems of a declining population. Fyne Homes were invited to develop land for 18 no. affordable housing for rent to assist
with regeneration of the community. A limited RIAS Design Competition was held with both panel and community selecting CP Architects, Oban as architects for the project. The Isle of Gigha Heritage Trust had also commissioned a Master Plan and Island Design Guide to assist in integration of new development within the Island context to ensure Gigha's landscape was
enhanced and a sustainable long term community provided.
Site
The two sites are located in the heart of the community at Ardminish either side of the Gigha Hotel. Both were open grazing fields gently sloping with good southerly aspects and panoramic views eastwards across Ardminish Bay to Kintyre.
Design
The Island Design Guide was embraced as a means of integrating the first social housing in 50 years into the sensitive rural location. As a result, the incremental approach of cluster pattern was adopted allowing a phased approach for an 8 unit site and 10 unit site of 1 to 4 bed size which reflected the character of the Isle of Gigha and maintained continuity with a traditional pattern of building development. Robust simple building and eaves details with slate effect pitched roof, mixture of render and larch cladding enhance the proportion and relationships based on traditional mould. Single and 1½ storey are joined to form rectilinear forms orientated to ensure privacy and allow south facing living rooms with full size glazing to take advantage of views and passive solar gains. Upper floors have vertical velux windows to allow natural light deep into the bedrooms. The timber frame construction made offsite in mainland workshops allowed for quick erection on site together with highly insulated envelope. Underfloor heating to solid ground floor construction provides efficient space heating and solar panels mounted on south facing roofs linked to cylinders will assist in providing hot water needs.
Procurement
As there was no existing construction expertise on the Island a consortium of 3 no. local Kintyre based contractors was formed under a partnering arrangement to carry out the works in a phased handover of the 2.3m contract. A collaborative approach was established at a very early stage including the community which allowed solutions to be found to problems arising with a development of this nature and size on the Island. The formation of the consortium of contractors together with the partnering agreement has enabled the Trust's refurbishment programme and strengthened the Isle of Gigha Community.
PROJECT: Proposed Affordable New Build Housing Units
LOCATION: Ardminish, Isle of Gigha
CLIENT: Fyne Homes Ltd
ARCHITECT: CP ARCHITECTS
STRUCTURAL ENGINEER: RAMAGE YOUNG
QUANTITY SURVEYOR: MORHAM & BROTCHIE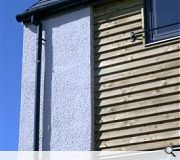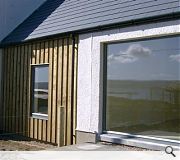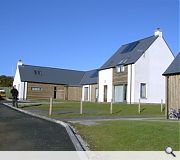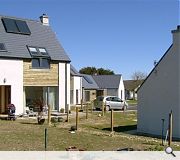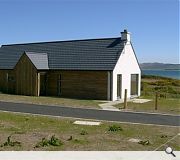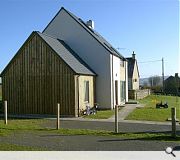 Suppliers:
Main Contractor: DPC CONSORTIUM
Back to Housing