Renfrewshire Council Headquarters
A lack of investment over the 30 year life span of the Renfrewshire Council HQ complex has resulted in significant deterioration of the building fabric and environmental services. This coupled with a failure of the cellular accommodation to easily adapt to, and comply with, modern office standards has necessitated this major refurbishment project.

Although benefiting from a central location within Paisley town centre and on a site with good views to the east and west which is surrounded by mature landscaping, the sprawling concrete complex was architecturally dated and lacked a single identifiable entrance. Overall the complex presented a poor public face, provided outdated facilities to staff and end users alike and was not the image that Renfrewshire Council wished to promote to the local people of Paisley.

The re-development proposals have therefore included the formation of a new central public reception, a comprehensive overcladding system together with major re-organisation of internal spaces to provide modern flexible open plan office accommodation. In addition the works included replacement of the entire M&E system and re-configuration of core areas to provide much improved staff welfare facilities.

The most striking design feature of the redeveloped complex has also addressed the biggest failings of the existing building namely, a single coherent image, a new central entrance and a public reception facility. A fully glazed box which provides the entrance, reception and also a new "Customer Service Centre" or CSC has been created between the central and south wings.

The requirement for a new Council Chamber has been accommodated in style within this glazed extension by the introduction of a stainless steel clad "egg" which appears to float half inside, half outside the building envelope.

This element creates visual impact, celebrates public entry point and gestures respectfully towards the adjacent Cathedral Precinct.

The redeveloped complex now extends to some 14,000 sq.m. GIA, has cost circa £15M to build and has taken around 5 years to complete all of the 3 phases from initial design studies.

Early feedback on the completed project has been very positive from staff, the public and the politicians alike suggesting that the design approach to this difficult building, has been successful.

PROJECT: Renfrewshire Council Headquarters
LOCATION: Paisley
CLIENT: Renfrewshire Council
ARCHITECT: Cooper Cromar
STRUCTURAL ENGINEER: Struer Consulting Engineers Limited
SERVICES ENGINEER: Wallace Whittle
QUANTITY SURVEYOR: Renfrewshire Council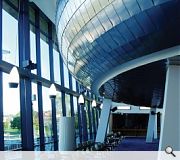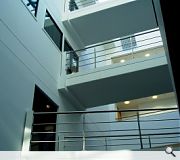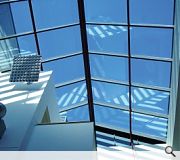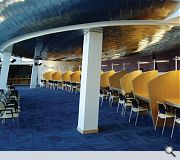 Suppliers:
Main Contractor: Amec/Morgan Ashurst
Consulting Engineer: Struer Consulting Engineers Limited
Cladding Contractor: Charles Henshaw
Fire Protection: Orr Fire Protection
Glazing: Charles Henshaw & Sons
Roofing: Proclad Scotland
Heating/Insulation/Ventilation: NG Bailey
Back to Retail/Commercial/Industrial