The Riverside House

City Architecture Office was initially approached in 2001 to explore the potential for a contemporary house in the garden of the client's current property.
The striking villa perched on the shoulder of the River Almond valley successfully overcomes extreme access, stability and planning issues to provide a 4-bedroom house on three levels over a steeply sloping wooded site, with dramatic cantilevers and views across the tree canopy to the historic Cramond Brig.
The design resolves the needs of modern living patterns within a 'traditional' form that suits the topography and unique place. An 'L' shaped form suggests a modest bungalow upon arrival; however the extent of the building is revealed when one moves down the extruded stair tower connecting two further floors that are cut into the slope.
The house is divided into two distinct zones for living and sleeping. The main lounge is at the top floor linked to a kitchen / dining / living space at the intermediate level via a winder stair and double height void. The bottom floor provides an entrance from the riverside access. Large glazed screens on each level provide a seamless transition from internal spaces to external interconnecting terraces and courtyards that surround the main house, emphasizing the buildings connection to the landscape setting both physically and visually.
The palette is a restrained use of simply detailed natural materials with environmentally conscious construction. There is a commitment to efficiently manage energy consumption with a wood-burning stove, high levels of thermal insulation, orientation to harness solar gain, and future proofing for micro- renewable electricity. Natural light and views are exploited and manipulated to dramatic effect and a repeated theme of light entering rooms from two sides further emphasises the importance of the landscape.
A woodland management strategy promotes tree planting, wildlife habitat and ensures its long-term welfare. The house protects and improves the existing landscape amenity and safeguards the future of an important wildlife corridor.
PROJECT: The Riverside House
LOCATION: 18 Ewerland, Edinburgh, EH4 6DH
CLIENT: Dr. & Mrs. Royles
STRUCTURAL ENGINEER: Peter Robinson Associates
SERVICES ENGINEER: J.M Bishop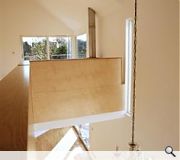 Suppliers:
Main Contractor: Ross Building & Joinery Ltd.
Photographer: Campbell Iain
Consulting Engineer: Peter Robinson Associates
Glazing: Nordan UK
Roofing: Artisan Roofing
Landscaping: Greenscape Ltd
Back to Housing