ST LEONARD'S ROAD

The proposed development for Ayrshire Housing has been designed to reflect the character of the traditional houses in the area and will be slate roofed with harled walls.
Car parking is provided in a private car park adjacent to the development. This utilises the narrower section of the site which has an existing avenue of trees which lead to an area of open space. Cars will be parked tucked under the canopy of the trees.
The houses front St Leonard's Road in a short six house terrace. Rear gardens with high fence and planting will provide a visual and noise buffer to the railway line and will also accommodate clothes drying and bin storage.
The houses have been designed with either a ground floor wheelchair standard bedroom as is the case with the three bedroom house or as is the case with the two bedroom house with a ground floor living room which is interchangeable with one of the first floor bedrooms.
This allows the house to have the alternative of a first floor living area with a ground floor bedroom and bathroom to suit a disabled occupant.
All the main apartments face St Leonard's Road with ancillary accommodation to the rail line.
This minimises noise disturbance to the apartments while also allowing house bound residents to look out to street activity.
Sustainable Design
The structure will use timber from sustainable sources. Timber has low embodied energy and is renewable. Timber is used for wall, floor and roof structure.
The houses are designed to be flexible in use catering for a variety of households and their changing needs over time.
Housing for varying needs and building regulations require wheelchair access to all houses however these houses have been designed to accommodate wheelchair users living in the houses without the need for adaptations.
Insulation is provided above regulation standards.
Large roof overhang give excellent weather protection and reduces solar gain in summer while allowing solar gain in the winter months when the sun is lower in the sky.
Windows have been designed to give good light penetration to reduce the need for artificial light.
PROJECT: ST LEONARD'S ROAD
LOCATION: AYR
CLIENT: Ayrshire Housing Association
STRUCTURAL ENGINEER: SCOTT WILSON
QUANTITY SURVEYOR: POOLE DICK ASSOCIATES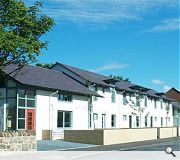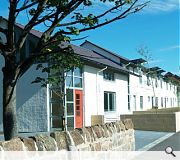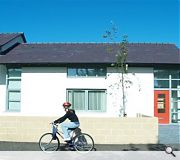 Suppliers:
Main Contractor: ASHLEIGH
Back to Housing