CONVERSION OF LOW BORLAND COTTAGE

Low Borland is a B listed group of farm buildings.
The Clients brief was to convert the three byres to the south of the existing farmhouse to form a new three bedroom house with three public rooms. The new house was to have separate access from the farmhouse and preserve the privacy of the farmhouse entrance courtyard.
The brief specifically required the lounge and the master bedroom to have large areas of fenestration to the south to take advantage of views south down the valley and over to Ailsa Craig in the distance.
Initial discussion with the planning department and Historic Scotland ruled out anything other than very minor modification to the existing byres to preserve the scale and external appearance of the byres. Initially Historic Scotland's preference was for flat or shallow pitched roofs linking the byres to preserve their scale and separation. Historic Scotland later indicated they would require all roofs to be slated.
The design solution adopted has been to link the three byres with 22½ degree pitched slate roofed glazed link and provide a new byre with generous south facing glazing.
One byre provides utility and storage, the former cottage byre provides games room, guest bedroom and bathroom. The large carthouse byre provides dining area, kitchen and second bedroom with shower room and study. The new byre provides the main lounge and master bedroom with extensive glazing to the south and small windows on the north looking into the entrance courtyard.
The three existing byres all had and still have different floor levels and are linked with short flight steps. However, the new byre and large byre have level access and have been designed to allow for full wheelchair access to public rooms, kitchen, bathroom and bedroom.
Sustainability
Heating is by wood burning stoves backed by an oil-fired efficient boiler. Insulation is well over current building regulations and fenestration is heavily biased towards south facing windows. Materials have, where possible, been recycled as with slate roofs. Waste slate and slappings being utilised as on site fill. Softwood from sustainable sources has been specified. Foul drainage is to be septic tank and to reed bed prior to discharging to the local water course.
PROJECT: CONVERSION OF LOW BORLAND COTTAGE
CLIENT: Mr & Mrs Blyth
STRUCTURAL ENGINEER: SCOTT WILSON
QUANTITY SURVEYOR: Munro Donald Associates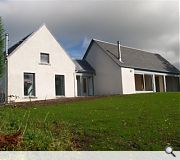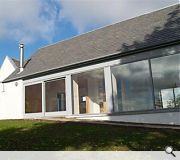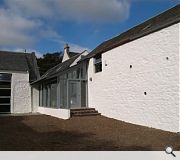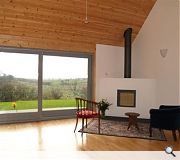 Suppliers:
Main Contractor: SKINNER SCOTLAND
Back to Housing