Bridgeton Urban Design Study
Austin Smith Lord were commissioned to undertake an urban design study for the revitalisation of Bridgeton Cross in Glasgow's East End.

The study involves the development of a vision for Bridgeton which will deliver physical, social and economic regeneration within the wider Clyde Gateway initiatives.

Based on an understanding of Bridgeton's role within the wider city and quality of its architectural heritage the masterplan seeks to repair and reinvent this keynote within the city.

Public realm proposals were developed for key selected areas of Bridgeton, as part of the Urban Design Study. The area currently suffers from decay and poor design resulting in an area with poor legibility and unappealing public spaces. This promotes a negative image of Bridgeton and discourages positive use of open space. The proposals for each area aim to enhance the areas assets, highlight the existing quality of spatial enclosure, improve legibility and orientation, rationalise and mitigate against the impact of the car (parking and moving) therefore creating high quality spaces with an appropriate sense of scale.

The proposals for James Street try to address the imbalance between space allocated to the road corridor and pedestrian space while maintaining vehicle access. The proposals will create a uniform link, physical and visual, between Glasgow Green, a world class urban park, by creating a tree lined boulevard. This will reinstate the "Street", through perception and behaviour, and reintroduce Bridgeton to the City and vice versa. The street will be appropriately detailed to maintain traffic access and parking while creating a quality public space through rationalisation of space, careful detailing of changes in level, surface finishes, planting and street furniture.

The Conservation Team (CT) assisted in the Bridgeton Urban Design Study by initially undertaking a desk assessment outlining the historic development of Bridgeton from its beginning as a settlement along a major route into the east end of Glasgow from the early 18th century up to the present day. The massive industrial development that followed the weaving industry resulted in a regular grid of streets which housed the factories and tenements for the workers. These post medieval and later 19th street patterns define the character of Bridgeton and together with the survival of several important buildings were deemed to be important elements to save in any regeneration proposals. The key listed buildings within the study area were also recorded as part of the CT work. The conclusion of the CT assessment work was that the core area of Bridgeton, centred around the "cross" was of such historic merit and special interest that the recommendation was given to Glasgow City Council to undertake an fuller appraisal of the are for Conservation Area Designation.

PROJECT: Bridgeton Urban Design Study
LOCATION: Glasgow
CLIENT: Glasgow City Council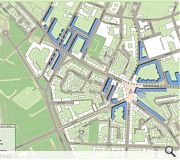 Back to Infrastructure, Urban Design and Landscape