Romano House
The project is a 3 storey development of 14 apartments in two distinctive buildings in Corstorphine village in Edinburgh. The building occupies the corner of Station Road and Tranquir Park West. The existing street lines, existing mature trees, and the scale of the surrounding housing is respected. A contemporary architecture is created whilst maintaining a contextual relationship with the surrounding environment

Two separated building forms are created, which minimise the building mass at the corner of the site. Open gable corners between the blocks allows visual and physical permeability into the private back court and all entrances to the building have been clearly defined with a variety of external stairs and main door access creating an interest at street level.

Projecting elements from the two buildings align with south and west facing aspects: The orthogonal two storey projecting window on Traquair Park West forms a distinct termination of the terraced streetscape, and the curved living accommodation to Station Road aligns with opposing street providing an axial feature to the streetscape whilst offering south west facing living accommodation.

The materials used pick up on those of the traditional local vernacular, and use stone, traditional render and copper. These are used architecturally in forming and articulating the blocks, building forms and building details.

PROJECT: Romano House
LOCATION: 43 Station Road, Corstorphine,, Edinburgh
CLIENT: Scotia Homes
ARCHITECT: Cooper Cromar
STRUCTURAL ENGINEER: Scott Bennett Associates Ltd
QUANTITY SURVEYOR: Scotia B.B.S. Ltd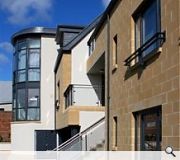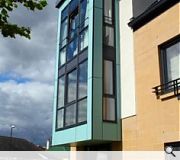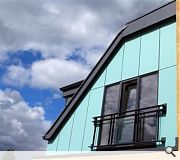 Suppliers:
Main Contractor: Scotia B.B.S. Ltd
Back to Housing