Pitlochry Community Hospital and GP Surgery
The Pitlochry Community Hospital is an ambitious Public/Private sector development which brings together several Healthcare facilities onto a single site located within what was formerly undeveloped woodland, yet is only a few minutes walk from Pitlochry High Street.

The development combines all of Pitlochry's Healthcare services into a single building – a new location and enlarged facilities for GP Surgery, the Atholl Medical Centre; a Community Hospital containing nine en-suite bedrooms for inpatients in addition to therapy facilities for outpatients and specialist services with residential care for patients suffering from dementia as well as a base for the Scottish Ambulance Service.

Eventually the development will also include a new 50 bed care home privately operated by Balhousie Care Group which commenced construction in March 2008.

The setting for the Community Hospital is exceptional, located entirely within a mature oak woodland. In order to minimize the removal of mature trees architects Campbell and Arnott have designed a striking contemporary building, part timber framed and part full masonry, which weaves its way around the site in a series of 'spokes' radiating from a central 'hub' creating wonderful opportunities for the hospital as bedrooms for patients and residents in the dementia accommodation and staff areas open directly on to landscaped gardens and views of the woodland beyond. The fresh white and red external walls with the cool goose grey metal profiled roof and aluminium clad windows contrasts well with and compliments the woodland setting.

The hub and spoke arrangement of the plan also ensures ease of navigation for patients to all of the services, whilst allowing maximum supervision by staff and assisting in providing security for both patients and staff.

The building design takes advantage of its location by maximizing the use of natural ventilation and ensuring high levels of daylighting throughout the building. This along with careful attention to interior design and selection of materials has created a non-institutional environment which still manages to adhere to all of Tayside NHS's requirements including stringent infection control requirements.

PROJECT: Pitlochry Community Hospital and GP Surgery
LOCATION: Pitlochry, Perth & Kinross
CLIENT: Medical Centres Scotland
ARCHITECT: Campbell and Arnott Ltd
STRUCTURAL ENGINEER: Wren & Bell
SERVICES ENGINEER: Harley Haddow
QUANTITY SURVEYOR: McLeod + Aitken Limited
LANDSCAPE ARCHITECT: Chris Palmer Associates
INTERIOR DESIGNER: WorkSpaceDesign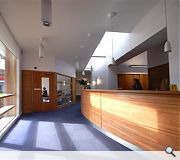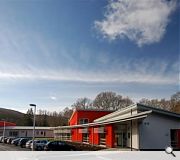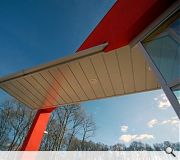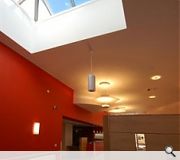 Suppliers:
Main Contractor: Stewart Milne Construction
Structural Steelwork: Flo Steel
Fire Protection: Tayblast Fire Protection
Glazing: GH Window Group
Flooring: Glenalmond Contracts
Roofing: Discovery Roofing Ltd
Heating/Insulation/Ventilation: Hutcheon Services Limited
Precast Concrete Contractor: Creagh Concrete
Rooflight Contractor: Lareine Enginnering Ltd
Back to Health