Marchmont St Giles Parish Church Halls

The recently completed project for Marchmont St Giles' in Edinburgh replaces existing temporary accommodation with a new hall, meeting rooms and vestry to enable the church to provide more effectively a range of services to its congregation and the wider community.
The site for the extension to the church halls is to the rear of the church and faces on to the adjacent Grange Cemetery. A number of buildings have been added to the church over time leaving residual spaces around the rear. The scheme makes maximum use of this tightly constrained site whilst preserving intact the visual form of the sanctuary. Within a tight budget, funds have been carefully deployed to produce simple, light-filled, welcoming interior spaces.
The main entrance forms a prominent but inviting approach with the landscaping developed to reinforce the connection between the hall accommodation and entry to the church grounds from Kilgraston Road. A new meeting / café space, top lit and naturally ventilated using a large monopitch rooflight, provides a focus for the new accommodation internally. 2 flexible meting rooms can be opened up to this area to provide a larger social gathering space. The existing hall is retained with the lower small hall converted to a central kitchen serving both the meeting / café space and hall.
The concept was to 'wrap' the site and make best use of the land available. The resultant irregular footprint would have been difficult to realise using stone and slate construction. The use of pre-patinated copper as a wall finish contrasts with the sandstone boundary walls (and grave stones) clearly differentiating old and new, while picking up copper details from the existing buildings.
The combination of standing horizontal seam and flat staggered vertical seams accentuates the linear form and fenestration pattern of the extension. The deep set windows and curved corner help give the extension a solid appearance. The use of a traditional roofing material as a walling finish combined with modern aesthetics and detailing provides a bold but sympathetic addition to the Church.
PROJECT: Marchmont St Giles Parish Church Halls
LOCATION: Edinburgh
CLIENT: Marchmont St Giles Parish Church
ARCHITECT: LDN Architects
STRUCTURAL ENGINEER: Elliott & Company
SERVICES ENGINEER: Irons Foulner Partnership
QUANTITY SURVEYOR: The Murdie Partnership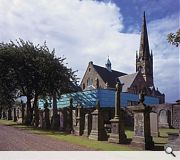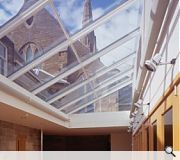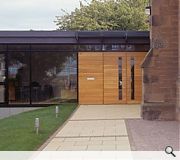 Suppliers:
Main Contractor: Peter Moran Ltd
Photographer: Keith Hunter
Back to Public