AEGON Visitor Reception

We have a good long-term relationship with AEGON and have worked with them on a variety of projects involving interior design and branding elements. On this particular project, we were asked to redesign their visitor reception and staff entrance.
For the visitor reception, we were asked to re-brand and create a more welcoming functional reception area to coincide with the rebranding of Scottish Equitable to AEGON UK, and to create a more flexible area suitable to support the conference room when hosting events and providing additional meeting rooms.
The huge walnut doors create a visual connection through to the conference room and the new relocation and presentation of the reception desk focuses on hospitality. The new reception compliments the new executive suite and the additional Faram glazing system and feature lighting further add to the dynamics of the space.
For the staff entrance and shop, the brief was to provide the staff with a shop and a coffee/ meeting area and to introduce security barriers. We also had to design and implement the rebranding of the space.
Our design solution involved breaking down areas to create the 'To Go' shop brand. We also designed a custom-built seating area and rebranded the reception desk using new materials with rich textures to reflect the new brand and to relate the space to the visitor reception area.
PROJECT: AEGON Visitor Reception
LOCATION: Edinburgh
CLIENT: AEGON UK
ARCHITECT: Graven Images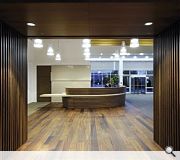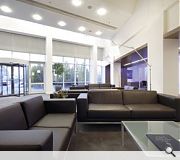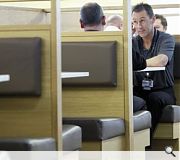 Suppliers:
Photographer: Renzo Mazzolini
Back to Interiors and exhibitions