Craigholme School Sports Facility

Craigholme School required a new sports pavilion to replace inadequate facilities at their Haggs Road playing fields. The context is an extremely sensitive site within Glasgow City's Pollok Park and as such is jealously guarded greenfield parklands. The site has mature trees as the backdrop on two sides.
The school decided to hold a limited architectural competition and enclosed is a summary of our original response in graphic and written form. Following our submission in December 2004 Davis Duncan Architects were appointed to carry out the commission. The building was completed and handed over to the school in November 2006.
The photographic images of the project as completed two years after inception represent very little significant differences from the original concept drawings although the brief and finishes had to be revised in issues of detail due to the tight cost restraints during development.
The Brief called for an indoor hockey pitch with the top quality beech wooden flooring with changing rooms / storage facilities on the ground floor. There is a mezzanine gallery and fitness room on the first floor. The full sized all weather external hockey pitch with fencing and lights was accepted as being best placed behind the building as suggested in our response to the brief although this differed from the clients original suggestion.
The construction as illustrated comprises a standing seam aluminium roof curved to the profile of the large span timber glulam beams supported on steel columns. The fabric emphasises the maximum use of daylight within the hall and the use of untreated Siberian larch cladding externally to blend with the woodland context. The surface water management has been carefully designed to avoid flooding and the ventilation system is a partial passive system drawing in cool air passed over the hall and extracted at high level over the mezzanine. The fabric and service systems were designed to address issues of sustainability which were considered important in this type of building.
The cost was £1,735,000 excluding fees and VAT and represents extremely good value given the facilities achieved within this strict controlled budget including the pitch and all the external works.
PROJECT: Craigholme School Sports Facility
LOCATION: Haggs Road, Glasgow
CLIENT: Craigholme School
SERVICES ENGINEER: T Dunwoody & Partners
QUANTITY SURVEYOR: CBA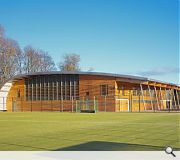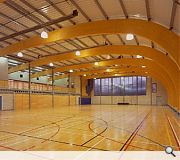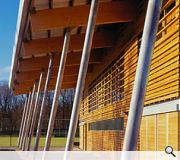 Suppliers:
Main Contractor: CBC
Cladding Contractor: IWPS
Glazing: IGH Windows
Flooring: I Mackay Flooring
Back to Sport and Leisure