Schaw House

The former Schaw Hospital, dating from the 19th Century, is a large B-listed 'Tudor Gothic' building, 4 storeys high located in Bearsden, on the outskirts of Glasgow. Built by the Schaw family and gifted to Glasgow as a convalescence home attached to the city's Royal Infirmary, by World War Two the hospital was used as an overflowed unit for patients requiring urgent medical attention. More recently it has functioned as a nursing home.
The now renamed Schaw House has been converted into 23 flats and terraces, aimed at both retired and young couples. Interiors are open plan and therefore easier to move around and maintain while the contemporary urban lifestyle aesthetic will attract the younger buyer.
For example, a typical floor plan has the kitchen sitting within the main living space. It is enclosed, but its walls, at 2.4 metres high, allow visual contact with the wider living area, like piece of furniture within the larger volume. It is this approach that typifies the strategy; interiors designed to suit the requirements of both the more traditional mature buyer and their younger counterparts.
Schaw House is generally symmetrical when viewed from the front but it spreads out as you move deeper into the plan. The internal volumes are arranged in such a way as to provide as many main door entry apartments were possible. Of the 23 units crated, nine have front door access, allowing direct access to the impressive grounds.
Also, designed into the plan, are five duplex apartments, while the gothic tower is an individual property in itself and features accommodation set over three levels. A roof garden tops this one-off accommodation type. Elsewhere the stable block has been converted and will function as a show flat.
In what was once the dining room – a large volume space to the rear – there's a rather attractive cupola which now floods the new circulation staircase with natural light.
Historic Scotland were keen to retain the external fabric, but were fully supportive of the subdivision and interior treatment of Schaw House.
PROJECT: Schaw House
LOCATION: 69 Schaw Drive, Bearsden
CLIENT: Premier Burrell Limited
ARCHITECT: SMC Davis Duncan Architects
SERVICES ENGINEER: DSSR
QUANTITY SURVEYOR: Thomas & Adamson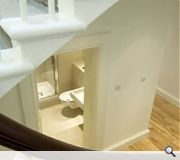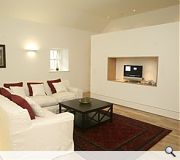 Suppliers:
Main Contractor: DSSR
Stone Masons: G Hillian Masonry
Glazing: McCormack Glass
Flooring: McKay Flooring
Roofing: Southwest Roofing
Lighting: A1 Electrical
Heating/Insulation/Ventilation: AGB Plumbing
Wardrobes: Universal
Back to Historic Buildings & Conservation